Last Updated: 04 ส.ค.
JBL Performance Manager is the next-generation software application designed to configure networked audio systems for corporate and live concert events, as well as systems within performance venues such as theaters and houses of worship. Using Performance Manager dramatically reduces design time, simplifies networking and automates control interface configuration. The patented workflow paradigm of the Performance Manager interface guides the system designer through the complete system design, configuration and control process and, in many ways, the entire process feels and acts like a simple step-by-step wizard. Networking has been reduced to a simple drag-and-drop operation, and all test, tuning and calibration control interfaces are embedded – no need to spend time designing control panels. Integration with Rational Acoustics' world-renowned Smaart® acoustic testing and measurement software provides audio technicians and engineers with unprecedented access to measurement information—all delivered over the network in one screen. A dedicated show mode provides all the monitoring and control needed to have a complete picture of how the system is performing in real time.
MAIN FEATURES:
Patented step-by-step design workflow
Modern look with faster performance
Included preset support for all JBL Tour Sound products
Time saving and accurate integration with JBL's LAC-II and LAC-III software
Integration with Rational Acoustics Smaart platform
Preconfigured system templates for fast deployment
Multi-touch support on Windows 10 touch-capable devices
Built in array optimization and tools
Built in system supervision and loudspeaker test tools
System Requirements
Supported Operating Systems:
64-bit versions of Windows 7, Windows 8.1 or Windows 10
Minimum Performance Guidelines:
CPU: 64 bit dual core @ 2.0GHz or better
Memory: 4GB
Optimal Performance Guidelines:
CPU: 64 bit dual core @ 2.50 GHz or better
RAM: 8GB or more
OS: 64-bit Windows 7 or above
Storage: SSD
Performance Manager 2.7.0 supported devices:
JBL VTX A-Series: A12, A12W, A8, B18, B28 models
JBL VTX V-Series: V25-II, V20, S25, G28 and S28 models
JBL VTX F Series
JBL VTX M Series
JBL VRX900 Series
JBL powered VerTec Series [with DP-DA installed]
JBL passive VerTec Series
Crown I-Tech HD Series
Crown VRACK 12000
Crown VRACK 4x3500dbx
dbx DriveRack® 4800 / 4820
Tutorials for Performance Manager
View our complete list of videos that is constantly updated which show how to operate the Performance Manager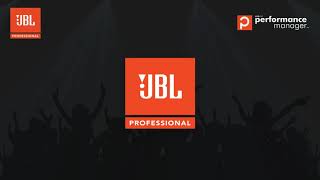 What's New in Performance Manager v2.7
New features and improvements in Performance Manager Version 2.7.
17, August 2020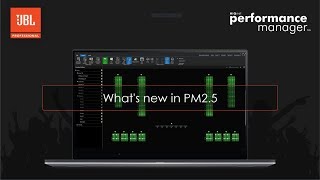 What's New in Performance Manager v2.5
New features and improvements in Performance Manager Version 2.5.
10, October 2017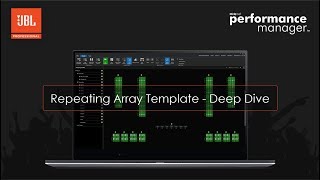 Repeating Array Template - Example 1
10, October 2017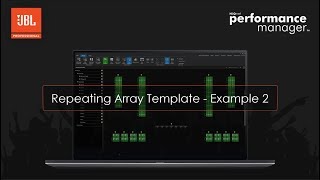 Repeating Array Template - Example 2
10, October 2017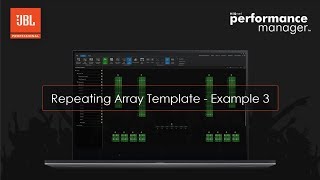 Repeating Array Template - Example 3
10, October 2017
Performance Manager 2.7.0
New Features
New speaker support
Added preset support for the VTX B28.
New Navigation UI:
The top ribbon interface has been redone to simplify navigation and mode switching.
Mode switching has been moved and the ribbon now displays the functions available to the selected mode.
Mute protection has been moved from the ribbon to the grouping toolbox and is available in all online modes.
The Groups mode has been redone and the group editing buttons are now displayed on the ribbon.
The ribbon can be minimized to improve space for smaller screens and tablets.
Speaker assignment improvements:
Drag-and-drop for bandpass assignment is now also available for 2-channel Crown I-Tech HD amplifiers.
Use Shift + Left click to select an array and drag-and-drop the array to the desired amplifier rack to connect speakers to amplifiers.
Container (rack) naming improvements:
Rack names can now be reassigned in the Go Online mode and without having to clear and recreate the racks.
Once in Go Online mode, select a rack and click the Rename button on the ribbon.
General Improvements
The application title bar has been updated to follow Windows 10 UI guidelines. The window controls are now larger and easier to use on touch devices.
Custom racks can now be created without having to select bandpass labels. This significantly reduces the steps and time needed to create a custom rack. Amplifier channels are assigned the standard "none" channel label. Drag and drop a speaker to assign channel labels on the fly.
Inside-out wiring can now be assigned to front fills without having to start from a template.
Changing subwoofer circuit grouping no longer erases the EDS delay values.
Factory and user groups can now be rearranged as needed. Click and drag to change the order of groups. Right-click and select rename to change a group name from any mode.
The User Groups section is now collapsible like the Venue groups.
The default channel label for V-Rack 12000HD is now SUB.
The zoom position is now maintained when switching from mode to mode. When new devices are added to the venue, PM now zooms out to show all devices.
The array and speaker positions never change when going from mode to mode and when the circuit jumpers are removed.
EQ filter ON/OFF buttons now turn green when the filters are active.
General Installer and Auto Update improvements.
Bug Fixes
Addressed a problem related to the "Clean Filter" warning on the I-Tech 4x3500HD LCD displays. The warning will no longer be displayed for no reason.
Addressed several problem related to keyboard usage on touch devices. In some cases, the Windows 10 and the Performance Manager keyboards were active. Now, only the PM keyboard is shown, improving usability on Windows 10 touch devices.
Addressed a problem that EQ filters could get corrupted when the HiQnet addresses of amplifiers where changed.
Fixed a problem where devices would not associate to offline devices the first time a drag-and-drop was used in Go Online mode.
Addressed a problem where the Input Priority button was always showing medium priority.
The noise-generator in test system mode can now take values in Hz also.