United Cinemas Delivers Visceral Cinematic Experiences With JBL Professional Audio Solutions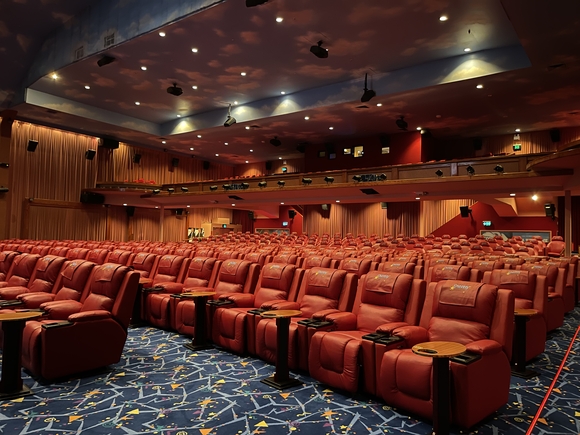 March 17, 2022
SYDNEY—United Cinemas recently upgraded their flagship facility at Warriewood with advanced JBL Professional cinema audio solutions.
Located just north of Sydney in Warriewood, United Cinemas is a premier seven-screen multiplex cinema that offers a premium movie-watching experience including leather recliners with built-in wireless phone chargers, as well as world-class food and beverage service. In order to provide an immersive cinematic experience for movie-goers, United Cinemas required state-of-the-art audio systems capable of delivering clear, intelligible sound and balanced coverage in every seat of its main theater space, the Grand Theatre. To achieve this, the facility acquired a selection of cutting-edge JBL Professional and Crown cinema audio solutions.
"We wanted to enhance the listening experience of the 650-plus capacity Grand Cinema theater," said Roy Mustaca, Chairman, United Cinemas. "We selected JBL and Crown solutions for their simple-yet-effective configuration and routing capabilities. Crown's built-in speaker presets played a significant role in ensuring proper frequency response, crossover points and limiter settings."
The Grand Theatre's audio system is designed around JBL cinema loudspeakers. The installation team deployed JBL 5732 three-way speakers behind the screen for maximum output and minimum distortion in the main left, left-center, center, right-center and right channels. JBL 9310 and 9300 surround speakers, AM5215 front ceiling surround speakers and AM7215 loudspeakers were chosen for the wide left and right surround channels. Additionally, the team installed JBL 4642 A and ASB6125 subwoofers to deliver spine-tingling low frequencies in the stage and surround LFE channels. The entire system is powered and routed by Crown DriveCore Series networked amplifiers to create a truly immersive listening environment for standard 7.1 channel and Dolby Atmos soundtracks.
"Our technical team worked closely with HARMAN application engineers to design a custom JBL audio solution that successfully delivers crystal-clear sound quality and balanced coverage," said Sam Mustaca, CEO, United Cinemas. "We are delighted with the remarkable job and would like to extend our gratitude to everyone involved in the project. Continuing our partnership with HARMAN, we plan to convert the Grand Theatre into a live performance venue in the near future, using BSS signal processors."
"As a venue that seeks to pioneer novel movie-going experiences, United Cinemas required a reliable, state-of-the-art cinema audio solution," said G. Amar Subash, VP & GM, HARMAN Professional Solutions, APAC. "We would like to thank United Cinemas for letting us help them provide a premium audio experience to their audience."