JBL Professional Introduces the 8550 Cinema Surround Speaker for China Market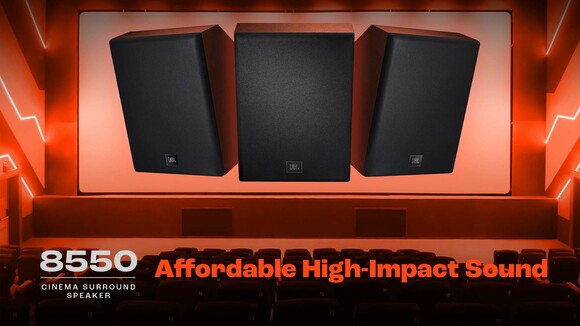 August 16, 2022
NORTHRIDGE, Calif. — HARMAN Professional Solutions, the global leader in audio, video, lighting and control, today introduced the JBL Professional 8550 Cinema Surround Speaker for medium- to large-format applications in the China market.
With its high sensitivity and extended bandwidth, this updated 12-inch, two-way, bass-reflex speaker reproduces the wide dynamic range and nuanced details in today's digital immersive soundtracks. Its broad horizontal and vertical coverage allows installers to spec fewer speakers to deliver incredible sound in every seat.
Power, Precision and Dynamics
The 8550 packs 350 watts of continous power handling in a compact package, delivering effortless coverage in medium and large-size theatres. With 101 dB sensitivity, it'll reproduce the extended dynamic range in immersive digital sound tracks, loud and clear, exactly as intended.
More Coverage with Fewer Speakers
With an ultra-wide 100-degree horizontal dispersion and 80-degree vertical dispersion, the 8550 provides seamless coverage with fewer speakers than narrower models. It's a cost-conscious way to bring premium JBL surround sound to cinemas.
Fast, Easy Installation and Maintenance
Installation is quick and easy, thanks to a convenient mounting design that uses JBL QuickMount™, Omnimount® or APC Multimount brackets. Cabinets feature 20° angled front baffles, and input terminals are located on top of cabinet for quick and easy access to wiring. The 8550 is compatible with a range of JBL mounting brackets.
"There's nothing quite like a night out at the movies," says Roy Chen, Solutions Manager, JBL Professional Cinema Sound. "But with immersive, high-definition streaming content vying for the attention of movie lovers, cinemas need to invest in state-of-the-art technologies to deliver the brilliant visuals and three-dimensional sound that envelop audiences in the action and keep them coming back for more. The 8550 is a cost-conscious way to ensure that theater sound systems deliver all of a film's sonic nuances, from the softest whisper to the mightiest roar."
The 8550 can be combined with JBL screen array speakers and subwoofers to build high-impact, streamlined cinema sound systems.
Additional Details
Complete product details and specifications are available at: https://jblpro.com/en-US/products/8550.