JBL by HARMAN's VTX Series Helps Power Performances By Top Country Artists at Circle K and Kangaroo Speed Street Presented by Coca-Cola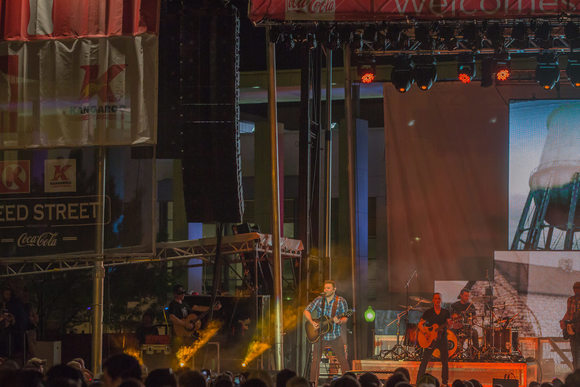 July 21, 2016
JHE Production Deploys JBL VTX V20 Arrays to Deliver High-Quality Live Sound on the Coca-Cola Stage
CHARLOTTE, N.C.—JBL by HARMAN VTX Series line arrays recently helped JHE Production deliver the highest quality live sound at Circle K and Kangaroo Speed Street presented by Coca-Cola. The 22nd annual festival was held in conjunctionith the Coca-Cola 600 weekend at Charlotte Motor Speedway and featured a stellar lineup of top country music artists, including Montgomery Gentry, Chris Young, Kellie Pickler and The Band Perry. In order to provide the highest quality audio and meet the challenges of setting up a mobile stage in the middle of the city, JHE selected JBL VTX V20 for its clean and transparent sound, ease of deployment and exceptional coverage.
"There were two large office buildings on either side of the stage, so we were a little worried about the sound reflecting off the buildings and ruining the mix," said Brian Hancock, Director of Audio Engineering at JHE Production. "The VTX system gave us precision control over the configuration and coverage, which allowed us to deliver excellent sound quality. We do a number of mobile shows each year, and VTX delivers the advanced performance we need to expand our current capabilities even further."
Circle K and Kangaroo Speed Street presented by Coca-Cola featured two nights of performances by some of the biggest stars in country music. The primary goal for many of the touring engineers was to ensure that the vocals sounded great and sat on top of the mix. However, with multiple acoustic and electric instruments being played on stage simultaneously, it was challenging to achieve a clean and upfront vocal mix. The high output and transparent sound quality of the VTX V20 enabled JHE Production to meet this challenge, and the engineers and artists alike were impressed with the sound quality at the festival.
"In country music, there's a great deal of focus on the vocals," said Hancock. "Audiences want to hear the vocals more than anything else. I think we definitely achieved that with VTX, and everyone commented on how great the vocals sounded throughout the festival."
Since the festival essentially took place in the middle of Uptown Charlotte, it was important for JHE Production to deploy and configure the system quickly. The system also needed to be compact and lightweight to meet the size and weight restrictions of the mobile stage. VTX V20 is equipped with a new suspension system that provides efficient transport, fast setup and precise configuration, enabling JHE Production to get the system up and running fast.
"The VTX was a breeze to set up and we saw major advantages of how the system rigs in the air," said Hancock. "Anyone who is used to working on mobile stages knows that there are intense rigging restrictions on where you can put weight. VTX made it simple to handle that stuff."
JHE Production also deployed a Soundcraft Vi7000 mixer and Crown VRack power amplifiers at the festival, and used JBL HiQnet Performance Manager 2.0 software to configure the entire system. The selection of HARMAN live sound solutions provided seamless integration and delivered exceptional performance for the festival.
"The Crown VRack amps were quick and easy to deploy, and everything was super flexible for routing," concluded Hancock. "Performance Manager allowed us to add our presets and configure everything beforehand, and everything came together smoothly. We were very pleased with the entire system."
The JBL VTX V20 delivers advanced technology and extraordinary performance in a small format, high power density 3-way system. All VTX V20 components have been specifically engineered to provide stable 105-degree horizontal coverage and effective line source array coupling in the vertical plane while delivering linear, transparent sound up to surprisingly high output levels for its diminutive size. JBL's exclusive dual voice coil, dual magnetic gap Differential Drive technology is at the core of all VTX models, dramatically reducing driver weight while greatly enhancing all critical performance parameters: frequency response, power output and distortion.
Photography Credit: Craig Bess Photography
ABOUT JHE PRODUCTION
Founded in 1987, JHE Production is an award-winning event production company specializing in live shows, experiential activation, special and corporate events. For more information, visit www.gojhe.com.
ABOUT HARMAN
HARMAN (harman.com) designs and engineers connected products and solutions for automakers, consumers, and enterprises worldwide, including connected car systems, audio and visual products, enterprise automation solutions; and connected services. With leading brands including AKG®, Harman Kardon®, Infinity®, JBL®, Lexicon®, Mark Levinson® and Revel®, HARMAN is admired by audiophiles, musicians and the entertainment venues where they perform around the world. More than 25 million automobiles on the road today are equipped with HARMAN audio and connected car systems. The Company's software services power billions of mobile devices and systems that are connected, integrated and secure across all platforms, from work and home to car and mobile. HARMAN has a workforce of approximately 29,000 people across the Americas, Europe, and Asia and reported sales of $6.7 billion during the 12 months ended March 31, 2016. The Company's shares are traded on the New York Stock Exchange under the symbol NYSE:HAR.
For more information, contact:
Ian MacDonald
Brand Definition
Tel: +1 212-660-2555
© 2016 HARMAN International Industries, Incorporated. All rights reserved. Harman Kardon, Infinity, JBL, Lexicon and Mark Levinson are trademarks of HARMAN International Industries, Incorporated, registered in the United States and/or other countries. AKG is a trademark of AKG Acoustics GmbH, registered in the United States and/or other countries. Features, specifications and appearance are subject to change without notice.