HARMAN Professional Solutions Brings Performances to Life at the Vietnam National Puppetry Theatre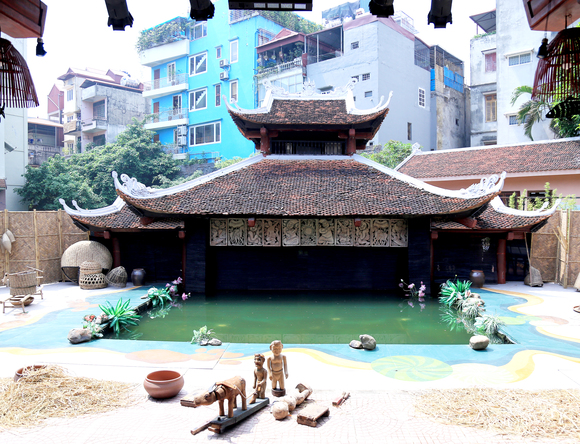 2017년 10월 24일
Ba Sao Investment selects JBL, Crown, dbx, Lexicon and Soundcraft solutions to deliver premium sound quality at the historic Vietnamese puppet theater
HANOI, VIETNAM—Ba Sao Investment recently installed a complete audio system by HARMAN Professional Solutions at the Vietnam National Puppetry Theatre.
Since 1956, the Vietnam National Puppetry Theatre has preserved the uniquely Vietnamese art of water puppetry, hosting multiple performances per week. Considered a cultural highlight in northern Vietnam, these shows combine dramatic performances by skilled puppeteers with accompaniments by a traditional Vietnamese orchestra. In order to enhance the performances and ensure superb audio quality for audiences, the National Puppetry Theatre hired Ba Sao Investment to upgrade its aging audio system with a complete end-to-end HARMAN audio solution.
"One of the main objectives was to seamlessly integrate the new sound system with our existing equipment," said Trịnh Đình Tân, Technical Manager, Vietnam National Puppetry Theatre. "It was also necessary to implement an outdoor-friendly solution that would be easy to set up and operate. The HARMAN system installed by Ba Sao Investment met all these requirements, delivering an audio experience worthy of the prestige our show is known for."
The HARMAN sound system Ba Sao Investment installed in the National Puppetry Theatre includes JBL VT4886 line array speakers and VT4883 subwoofers, JBL PRX412M 12-inch portable speakers, JBL AWC129 weather-resistant speakers, JBL AC 25 ultra-compact speakers, Crown DSi2000 power amplifiers, dbx iEQ-31 equalizer/limiters, a Lexicon PCM92 digital effects processor and a Soundcraft GB8 series mixing console.
"We rely on HARMAN Professional Solutions to provide quality products for all of our installation needs," said Nguyen Khac Anh, CEO, Ba Sao Investment Co. Ltd. "The National Puppetry Theatre wanted to make sure the audio solution would be easily integrated with their existing system. Thanks to the versatility of HARMAN products, they are very happy with the system we provided."
Ba Sao Investment designed the audio solution around JBL VerTec series line array speakers and subwoofers, which offer excellent performance and coverage in a compact footprint. PRX412M portable speakers provide clear and precise stage monitoring, while JBL AC25 ultra-compact speakers offer high output and 90° x 90° coverage. JBL AWC129 full-range speakers are highly weather-resistant and satisfy the theater's outdoor use requirements.
The entire system is driven by Crown DSi 2000 amplifiers, which deliver unmatched sound quality and reliability. To ensure maximum sonic performance from the system, dbx iEQ31 graphic EQ/limiters offer 31-band equalization, AFS™ feedback suppression, Type V™ noise reduction and PeakStopPlus® limiting. The Lexicon PCM92 is the most advanced reverb and effects processor in its class and lends its famously rich and smooth sound to the productions. Finally, a Soundcraft GB8 dual-mode topology audio mixer brings industry-standard mixing control to each performance.
"We are honored to be a part of the unique traditions of Vietnamese puppetry art performance," said Ramesh Jayaraman, VP & GM, HARMAN Professional Solutions, APAC. "We thank the National Puppetry Theatre for trusting HARMAN products to improve its audience experience, and Ba Sao Investment for continuing to have faith in HARMAN's ability to deliver custom-tailored solutions for every client's needs."