Smart Axiata Raises Money for Hospitals With Smile Charity Concert Powered by HARMAN Professional Solutions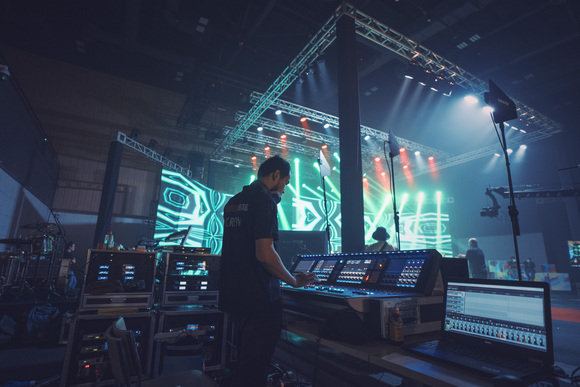 mai 07, 2021
PHNOM PENH, Cambodia—To deliver high-energy sound reinforcement with optimal clarity and coverage at the Smile Charity Concert at Aeon Mall Sen Sok City, Smart Axiata hired Nano Sound Cambodia to deploy a state-of-the-art HARMAN sound reinforcement system comprised of JBL, Crown and Soundcraft solutions.
Organized by telecommunications provider Smart Axiata, the Smile Charity Concert was created to raise money for Kantha Bopha Hospital and Angkor Hospital for Children. The concert took place at Aeon Mall Sen Sok City, a shopping center featuring a 1,500-seat performance hall that hosts concerts, weddings, trade shows, conferences and gaming competitions. In order to ensure premium sound quality for the concert, event organizers hired Nano Sound to provide a state-of-the-art sound reinforcement system featuring JBL loudspeakers, Crown amplifiers and Soundcraft mixers.
Nano Sound reported that the client requested a high-quality audio system that could be adjusted for a variety of performance types. The client also required complete coverage for two different stages, as well as the venue's lobby. To deliver premium sound quality throughout each space, Nano Sound selected JBL speakers for their ability to support a wide range of contemporary and classical music genres.
The HARMAN system installed by Nano Sound included JBL STX 815M main speakers, STX818S subwoofers, STX 812M floor monitors and VTX F15 multipurpose loudspeakers. For portable sound reinforcement, Nano Sound supplemented the system with JBL EON 610 loudspeakers. The team powered the JBL loudspeakers with Crown VRack 4x3500HD all-in-one amplification systems. In order to ensure professional-sounding mixes with plenty of dynamics and clarity, Nano Sound installed Soundcraft Vi3000, Ui24R and Notepad-12FX mixing consoles.
Smart Axiata reported that the sound quality throughout the venue was exceptional and the system design was flawless. They added that the entire system works seamlessly for all types of performances hosted in the venue.
"Aeon Mall Sen Sok City is an admirable cultural hub, and the variety of events hosted in the venue demand robust solutions that deliver top-notch audio quality," said Amar Subash, Director, Channel Management and Audio Solutions, HARMAN Professional Solutions, APAC. "We would like to thank our partner Nano Sound for being involved in every step of creating an immersive experience for the visitors, and for selecting premium HARMAN audio solutions to achieve the desired result."