JBL Professional VTX V20 Line Arrays Find Home at the Effenaar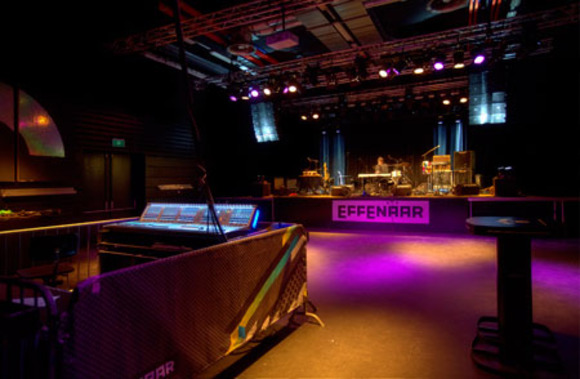 juin 27, 2014
EINDHOVEN, The Netherlands – The first permanent installation of HARMAN's JBL VTX V20 line arrays was recently completed at the Effenaar venue in the Dutch city of Eindhoven. The system was put to its first test with a performance by singer-songwriter and violinist Joan as Police Woman. Audio XL, HARMAN's Benelux distributor, provided the system.
The Effenaar is a legendary music venue located in the city center of Einghoven. It was founded in 1971 and has established a reputation as one of the main clubs in the Netherlands where world-famous acts could play, and also a club where new, local talent could spawn, grow and be harvested.
The new PA system at Effenaar features a left-right configuration of five V20 line array elements per side, accompanied by three S25 subwoofers per side. Seven I-Tech 4x3500 HD amplifiers power the system, which also features two JBL STX835 loudspeakers. The venue also features a Soundcraft Vi6 digital console, two Vi4 digital consoles and JBL PRX portable PA loudspeakers.
The JBL VTX V20 loudspeaker features a true 3-way system design with proprietary D2 Dual Diaphragm Dual Voice Coil compression driver and Differential Drive™ low frequency transducer technology along with patent-pending ultra-linear motor technology employed for midrange components. In keeping with the philosophy of the VTX Series, the VTX V20 has extremely high power density with each line array element featuring two 2261H 10-inch Differential Drive™ woofers, four 2164H 4-inch ultra-linear midrange transducers and three of the new small-format D2415K Dual Drivers.
"The Effenaar chose the new JBL V20 because we first heard its big brother, the V25, and were very impressed," said Charles Konings, Technical Production Manager at the Effenaar. "We think JBL took a big leap forward in designing the VTX Series."
For more information on the Effenaar, please visit www.effenaar.nl
HARMAN designs, manufactures, and markets a wide range of infotainment and audio solutions for the automotive, consumer, and professional markets. It is a recognized world leader across its customer segments with premium brands including AKG®, Harman Kardon®, Infinity®, JBL®, Lexicon®, and Mark Levinson® and leading-edge connectivity, safety and audio technologies. The Company is admired by audiophiles across multiple generations and supports leading professional entertainers and the venues where they perform. More than 25 million automobiles on the road today are equipped with HARMAN audio and infotainment systems. HARMAN has a workforce of 14,800 people across the Americas, Europe, and Asia and reported sales of $4.7 billion for the last twelve months ended December 31, 2013.