JBL Professional M2 Master Reference Monitor Provides Flawless Audio for Joseph Magee in the Sound Mixing of Pitch Perfect 2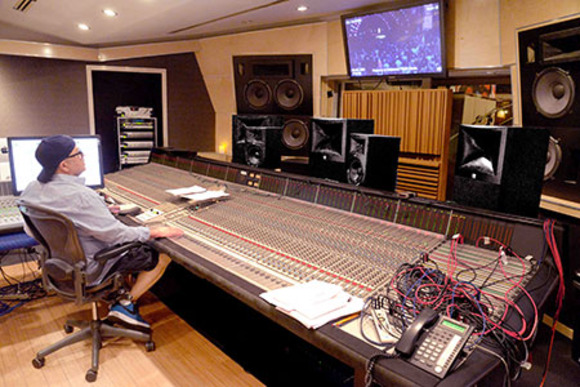 juin 11, 2015
NORTHRIDGE, California – On May 15,
Pitch Perfect 2
starring Anna Kendrick opened in theaters nationwide grossing more than $100M in just two weeks. At the heart of the film's success is its musical score. Supervising Music Mixer Joseph Magee, whose credits include the original
Pitch Perfect, Saving Mr. Banks, High Fidelity
and
Into the Wild
, recorded and mixed all of the a capella vocal performances using HARMAN's JBL M2 Master Reference Monitors in a specially-built studio on location in Baton Rouge.
To produce and record the cast's engaging vocal performances, Magee deployed JBL M2 Master Reference Monitors used in an L/C/R configuration, before shipping them back to Los Angeles where they were installed for mixing at Encore Studios and final dubs at Sony Studios. Magee also used a pair of JBL powered 3 Series LSR308 studio monitors as his near-field listening system.
 The M2 Master Reference Monitor design leverages JBL's revolutionary D2 Compression Driver, which uses two annular diaphragms and two voice coils to deliver extended high frequency response and very low distortion at very high sound pressure levels. The D2 is mated with JBL's new 2216ND Differential Drive® 15-inch woofer also with dual voice coils, incorporating a patented wire application that reduces power compression enabling linear output regardless of playback level. With these two extraordinary drivers as the engine, the M2 Master Reference Monitor delivers extended in-room response of 20 Hz to 40 kHz and remarkable 123 dB SPL at one meter, providing the performance required for demanding music and film production.
 The M2's compact footprint and accuracy make it ideal as a main monitor in a broad range of environments. "A lot of people perceive the M2's as monitors that are meant to be permanently installed in a control room, tuned to the room and then left alone. But the reality is these loudspeakers sound great out of the box, so taking them to Baton Rouge was an easy decision," Magee said.
 Having used other large-format studio monitors, in Magee's opinion, JBL's patented-pending Image Control Waveguide, coupled with JBL's patented low-distortion D2 high-frequency driver sets the M2 apart from the pack. "The D2 is so darn fast, and the system delivers such detail, I'm hearing things I haven't heard before in my mixes and I'm hearing things differently—in a good way," he said. "The M2 system performed exceptionally, day in and day out, and I think moviegoers will enjoy the results!"
 HARMAN (harman.com) designs and engineers connected products and solutions for consumers, automakers, and enterprises worldwide, including audio, visual and infotainment systems; enterprise automation solutions; and software services. With leading brands including AKG®, Harman Kardon®, Infinity®, JBL®, Lexicon®, Mark Levinson ® and Revel®, HARMAN is admired by audiophiles, musicians and the entertainment venues where they perform around the world. HARMAN also is a technology and integration services leader for the Automotive, Mobile, Telecommunications and Enterprise markets. More than 25 million automobiles on the road today are equipped with HARMAN audio and infotainment systems. The Company's software solutions power billions of mobile devices and systems that are connected, integrated, personalized, adaptive and secure across all platforms, from the work and home to car and mobile. HARMAN has a workforce of approximately 25,000 people across the Americas, Europe, and Asia and reported sales of $5.9 billion during the last 12 months ended March 31, 2015.
Press Release PDF