Uppercuts DJ Academy Stays on the Cutting-Edge of Music Education with HARMAN Professional Solutions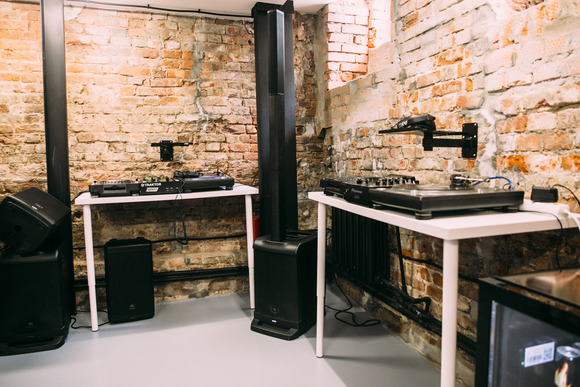 January 26, 2018
JBL EON speakers, Soundcraft mixers, and AKG headphones and microphones help the next generation of DJs and producers develop their skills
MOSCOW—Uppercuts DJ Academy recently upgraded their facility with industry-leading audio solutions from HARMAN Professional Solutions.
Founded in 2014 by DJ Mos, Uppercuts DJ Academy offers aspiring DJs and producers a cutting-edge education in turntable performance and electronic music production, preparing graduates for success in clubs, contests and festivals. In order to ensure a comprehensive educational experience with professional sound monitoring for its students, the academy recently invested in a total HARMAN audio solution comprised of JBL EON speakers, AKG headphones and microphones and Soundcraft mixers.
"The new HARMAN equipment has made a huge difference in our classrooms," said Tony Starr, Director, Uppercuts DJ Academy. "When we first opened, instructors and students brought their own headphones to class and everyone used different models from various manufacturers—there was no consistency. The AKG headphones ensure that we're all hearing the same thing when we listen together, which is critical for providing accurate feedback and helping our students develop as artists."
Throughout the academy's facility, students use individual turntable stations to practice their mixing and scratching skills. At each station, JBL EON610 speakers reproduce every aspect of the student's technique with the clarity they need to evaluate their performance. Additionally, AKG K181 DJ headphones allow the students to practice privately, and listen critically to the subtle details of their mixes. In the electronic music lab, JBL LSR308 studio monitors and Soundcraft Signature 22 MTK mixing consoles help students create their first compositions.
"If you have bad headphones and poor equipment, you are going to have a hard time preparing your routines," said DJ Mos, Founder, Uppercuts DJ Academy. "A DJ set is called a routine because it is a process—the more technical problems there are, the more difficult it is to perform at a professional level. Our students are fortunate to have access to HARMAN equipment on their path to success. The quality of JBL speakers and AKG headphones allow our students to develop their skills with confidence."
Uppercuts DJ Academy also selected two JBL EON ONE PA systems to use for events and competitions throughout the facility. The EON ONE's portability and ease-of-use allow the staff to host a variety of DJ battles and beat-making collaborations. AKG D5 microphones deliver crisp and clear vocal intelligibility when the MC addresses the audience and participants at such events.
"The HARMAN system enables us to provide professional sound quality for spectators and performers alike," said DJ Sibir, Senior Lecturer, Uppercuts DJ Academy. "The JBL EON ONE system is incredibly intuitive and takes no time to set up. Thankfully, you don't have to be a sound engineer to achieve professional results with JBL EON ONE. We recently hosted a unique event in which two DJs collaborated with three or more beat makers at a time. This required a complex routing situation, and the Soundcraft Signature 22MTK console handled the configuration with ease. It may have been the best sounding scratch competition I've ever witnessed."