The Goo Goo Dolls Take the "Long Way Home" with HARMAN Professional Solutions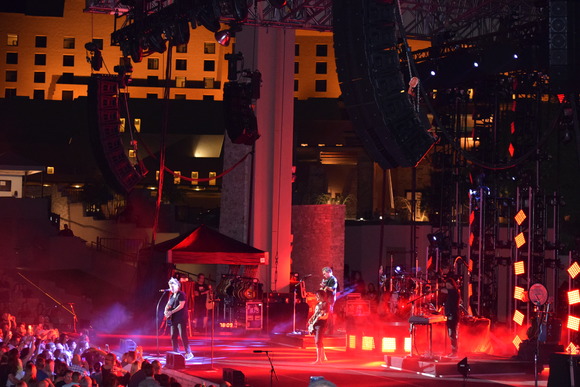 November 08, 2017
VIRGINIA BEACH, Va.—Sound Image recently supplied a complete JBL by HARMAN VTX Series audio system for The Goo Goo Dolls' extensive "Long Way Home" tour.   
The tour ran from July through September and featured shows at medium-to-large-sized amphitheaters across the country. According to the band's veteran FOH engineer Jon B. Schimke, the VTX V25-II system provided consistent, high-quality performance throughout the tour.
"The VTX system was up to the task—no matter the venue," Schimke said. "The VTX system was super clear—the electric guitars and drums sounded great, and you could hear every string on the acoustic guitar. I never had to push the system at all. I generally ran my master at minus seven or minus eight. I'd go up as much as minus five, but I never even came close to running it at zero."
The Sound Image system included 12 JBL VTX V25-II loudspeakers per side for the main hang, and eight JBL VTX V20 loudspeakers for the sides. Six VTX G28 subwoofers were deployed in a cardioid array on each side, and power was supplied by Crown I-Tech HD Series amplifiers.
"Not only are the VTX V25-II loudspeakers great-sounding and versatile, they're workhorses," said Dave Shadoan, President of Sound Image. "The Crown I-Tech HD amplifiers offer plenty of power for any size venue. When you put the two together, you've got one powerful PA."
While most amphitheaters on the tour were designed to handle systems of this size, several venues with smaller infrastructures couldn't support the size and weight of the full system. Even in situations when Schimke had to deploy fewer loudspeakers, the powerful output and wide coverage angle of the VTX V25-II loudspeakers delivered more than enough volume to get the job done.
"One show was at a minor-league baseball stadium that was probably the biggest place we've had to cover," said Schimke. "It had about 8,000 people, and we could only hang eight speakers per side because the stage had a weight limitation. But the VTX V25-II system covered it, no problem. It was eye-opening for me that I could put eight boxes up, cover that many people and still not have to drive it harder than normal. At another show, we had no rigging, so I just deck-stacked four per side with three subs and covered 4,500 people."
With an average of more than five shows a week, it was a busy tour for Schimke and his techs. Show days typically started around 9:30 AM, when the system was unloaded and setup began. The VTX system's reliable performance and ease of deployment made the day-to-day workflow extremely consistent and smooth.
"The VTX system was super easy to deploy on the tour," Schimke explained. "As far as tuning, it varied from venue to venue. If there was a roof, which probably half of them had, we just tried to keep the speakers off of it. We wanted to catch the top seats as narrowly as we could. We didn't want to overshoot them and get a bunch of the PA either into the walls, on the side, or the roof. We wanted to concentrate as much of the boxes down into the seats and we usually had to cover the lawn, as well."
Even in venues that were sonically challenging in the past, Schimke noticed a significant improvement this time around, thanks to the VTX V25-II. A case in point was the Garden State Arts Center in Holmdel, N.J.
"It's not a great-sounding room—it's all concrete and it's got a couple of domes right over the top of the FOH position," Schimke said. "We did extremely well there, attendance-wise. We had about 12,000 or 13,000 people and that helped clean it up. But mainly, I attribute the improvement to the VTX system. That was the best show I've ever had there in 30 years of mixing."