The Colosseum at Caesars Windsor Completes the World's First Installation of JBL by HARMAN VTX A12 Line Arrays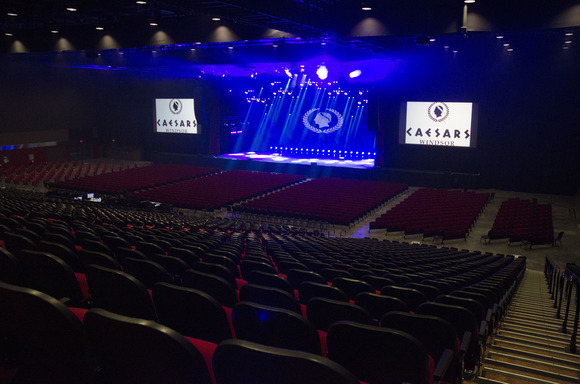 November 03, 2017
WINDSOR, ON—Audio-system integrator Solotech recently completed the world's first permanent installation of JBL by HARMAN VTX A12 loudspeakers at The Colosseum at Caesars Windsor Hotel & Casino resort.
The Colosseum is a 5,000-seat venue that hosts a wide range of performances—from chart-topping rock bands to acclaimed comedians. In order to improve the sound quality in the venue, The Colosseum hired Solotech to replace its entire audio system in three separate phases. In the first phase, which was completed earlier this year, Solotech replaced the venue's aging main hangs with 26 VTX A12 loudspeakers, which represent JBL's next generation of line array technology.
"We've got a world-class venue, and thanks to the VTX A12, we now have a world-class PA," said David Cyrenne, Production Supervisor and Audio Engineer at The Colosseum. "We needed something reliable and versatile to complement our 5,000-seat venue. We had a VerTec system in here before that served us very well, which is part of the reason we ended up going with JBL again. With the whole system integration, including JBL Line Array Calculator and Performance Manager software, it's a complete package."
"It's kind of like high-end reference-monitor-quality sound in a concert line-array," said Mark Radu, Senior Systems Designer, Solotech. "There's no distortion in the high-frequency driver, so it's crystal clear. It is such a smooth sounding box from top to bottom. The sound is so 'in your face,' and sonically, it's like nothing JBL has made before."
Once all three phases of the upgrade are complete in April 2019, the system will feature ten additional A12 loudspeakers as out fills, four VTX V20 loudspeakers as center fills, six VTX V20 loudspeakers as side fills, and six VT4886 loudspeakers as front fills. The subwoofer deployment will include 12 flown JBL VTX S25 subwoofers with six per side, nine S25 subwoofers in a cardioid array, four S25 as side fills, and ten JBL VT4880A subwoofers as infra subs. Power will be provided by 29 Crown I-Tech 4X3500HD amplifiers and 10 Crown I-Tech 5000HD amplifiers.
Radu credited the new high-frequency driver and waveguides as important factors in A12's outstanding performance. He said that the off-axis response has been particularly striking. When you move to the side, the high frequencies don't fall away as they do with other loudspeakers, even at 45 degrees off-axis. As a result, the stereo imaging is unusually vivid. But perhaps the characteristic that has most impressed Radu is the A12's phase response.
"On this box, the phase response is perfect from 300 hertz to 10 kHz—it's right at zero degrees," explained Radu. "With a multi-source line array, it's extremely rare to achieve a linear phase response. It can be challenging with a single five-inch driver, so getting a linear phase response from 240 plus drivers is incredible. To me, that's a big reason the A12 sounds so good."
The A12 also features a completely redesigned rigging system that enabled Radu's team to complete the installation with unprecedented speed and efficiency.
"It's remarkable how fast the A12 is to install," said Radu. "For the lack of a better term, you basically pull a pin out, stick it in the angle you want the cabinet at, press a button, and it locks as it goes up. Then you push the button again, and you're done. There was one guy on the motor and two people per side, and we probably flew 13 boxes in five minutes."