Technical Expert Greg Smith Pursues Audio Passion With HARMAN's Soundcraft, JBL, AKG, Lexicon and dbx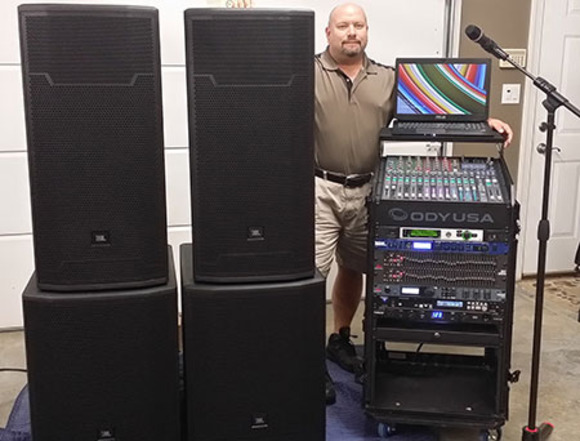 February 18, 2015
November 19, 2014 – For Immediate Release
 Technical Expert Greg Smith Pursues Audio Passion With HARMAN's Soundcraft, JBL, AKG, Lexicon and dbx
 CHARLOTTE, North Carolina – While working as a Senior Manager of Product Development for event production company JHE Production Group, Greg Smith channels much of his professional expertise into his passion for audio production at his home studio. Having enjoyed great success before with HARMAN equipment during his professional career, he recently acquired Soundcraft, JBL, AKG, Lexicon and dbx products to mix and produce events in his own community.
 Featured in Smith's personal inventory are four JBL PRX735 loudspeakers, four PRX718XLF subwoofers, an AKG DMS700 V2 wireless microphone system, two AKG D5 wireless handheld microphones, a dbx DriveRack PX powered speaker optimizer, a dbx 2231 graphic equalizer, Lexicon MX400XL reverb/effects processor, and a Soundcraft Si Performer 1 mixing console.
 "Since I work with a lot of the HARMAN equipment at my company, I am proficient enough to manage the sound for local shows and events," said Smith. "I love the long faders on the Si Performer 1, and I really enjoy using Soundcraft FaderGlow™ feature, because 90 percent of the time we're working in the dark and it's nice to be able to glance over my settings quickly."
 "As for the PA system, the JBL PRX700 Series gives me the most bang for the buck," said Smith. "Having used the original PRX series, I've noticed that these loudspeakers can work through everything including extreme weather conditions and temperatures. Not only will they survive the conditions, they sound absolutely amazing."
Growing up, Smith mixed sound and music in high school as well as plays and shows on the weekends. He deepened his knowledge of audio engineering over time and also broadened it with experience in multiple settings, including an aircraft carrier during overseas deployments. Currently, his professional work entails the design of framework and structural engineering plans for a variety of event venues.
"I'm old-school, and I like to operate on a more detailed scale than just highs, lows and mids," said Smith. "I got the dbx optimizer and equalizer so that I can manage my cutoffs and see the numbers 10, 20, 30 all across the entire spectrum. I want it very tight and clear, and this is the only way to do it with my budget." 
When asked what drove him to invest in a personal HARMAN Professional inventory, Smith said: "I'm extremely passionate about my work and decided that for my hobby, I would like to continue using long-lasting gear from the HARMAN brands. For example, my Lexicon processor and AKG mics have proven to be almost bulletproof."
HARMAN (www.harman.com) designs, manufactures and markets premier audio, visual, infotainment and enterprise automation solutions for the automotive, consumer and professional markets. With leading brands including AKG®, Harman Kardon®, Infinity®, JBL®, Lexicon®, Mark Levinson ® and Revel®, the Company is admired by audiophiles, musicians and the entertainment venues where they perform. More than 25 million automobiles on the road today are equipped with HARMAN audio and infotainment systems. HARMAN has a workforce of approximately 16,600 people across the Americas, Europe, and Asia and reported sales of $5.6 billion for the 12 months ended September 30, 2014.