T-Mobile Arena Relies on HARMAN Professional Solutions to Provide Excellent Fan Experience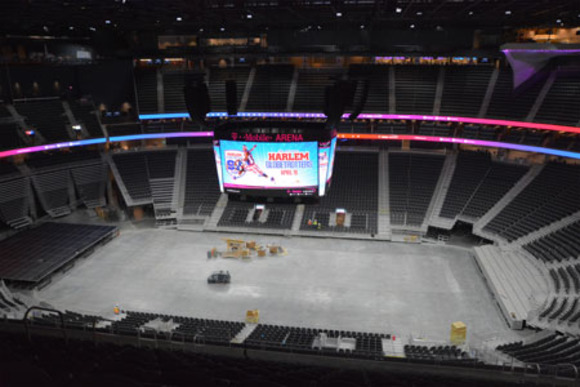 May 11, 2016
LAS VEGAS—The new T-Mobile Arena in Las Vegas, owned by AEG and MGM Resorts International, is a world-class, $375 million, multipurpose entertainment venue available to host NBA and NHL teams, concerts, boxing, mixed martial arts, award shows and other major events. With a total facility covering approximately 16 acres, the 650,000-square-foot arena is set to host 150 events annually with a maximum seating capacity of 20,000. To provide the arena with the best possible sound reinforcement coverage and intelligibility, engineers deployed a HARMAN Professional Solutions system centered around a very large, six-cluster JBL VTX line array and subwoofer system, powered by Crown VRack amplification. 
"In today's sports arena market, the fan experience is critical to success and having a high-performance, full-bandwidth system is a huge part of the experience," said Michael MacDonald, President of ATK Audiotek. MacDonald served as the Project Manager for the T-Mobile arena installation. "Sound quality is so important that the original design was actually revised and upgraded to increase the performance level to 'concert quality.'"
MacDonald explained that the arena's main six-cluster sound system that hangs next to the scoreboard was designed by Dallas-based system design and consulting firm, WJHW. The principal consultant was Scott Bray. The clusters consist of 72 JBL VTX V25-II elements and 36 JBL VTX S28 subwoofers powered by 18 Crown VRacks. The JBL VTX line array clusters are definitely the centerpiece of the system.
"Performance, coverage and rider acceptance all drove the decision to go with the VTX V25-II, but in the end, it's the overall value that is the deciding factor. The VTX V25-II sounds great and has astounding output and bandwidth," said MacDonald. "It's a high-fidelity, high-output system for sports and other events, and it can be reconfigured and moved to be used as the primary sound system for music performances. It can even be moved up into the scoreboard garage to clear the airspace for large-scale televised events, like the Billboard Music Awards."
The VTX V25-II is a full-size, 3-way, high-directivity line array element that includes a new fourth generation waveguide that improves long throw performance and wavefront control. Patented rigging, Crown I-Tech HD amplification with BSS ® OmniDriveHD V5 Processing and JBL HiQnet Performance Manager™ configuration and control software complete the system package.
"This system features cardioid subwoofer arrays that Scott Bray designed specifically to direct the infrasonic energy toward the audience seating areas and away from hard wall surfaces and the roof structure," said MacDonald. "The JBL VTX S28 subwoofers have the power and bandwidth characteristics that fit the design criteria well, including ease of rigging and out-of-the-box amp DSP settings that have outstanding performance."
The JBL VTX S28 Series dual 18-inch subwoofers provide extremely high peak-to-peak excursion capabilities to deliver extended low frequency performance. The JBL VTX S28 can be suspended or ground-stacked and is cardioid-arrayable in either configuration for improved rear projection. Compatible with VTX V25 suspension, the S28 can be suspended at the top of V25 arrays to extend the effective low frequency line length, providing improved vertical pattern control combined with improved rear rejection when used in cardioid mode.
As for amplification, in order to meet the system design requirement for application flexibility and performance, coupled with the requirement for fast and easy installation deployment, MacDonald explained that the Crown VRack was the natural choice.
"The Crown VRack system is extremely well thought out. The system is sturdy, lightweight and has internal rigging that allows them to be flown in projects where space is at a premium," said MacDonald. "The semi-portable nature of the installation is unique and provides the operations staff high audio performance coupled with ultimate flexibility."
Designed for optimum performance and setup simplicity, the Crown VRack Complete Amplification System provides a customized, turnkey amplification package, complete with full safety approvals. With Crown-engineered components already built in and no assembly required, it's an easy-to-configure, all-in-one amplifier solution that eliminates the time-consuming process of building amp racks. Featuring innovative software for convenient, streamlined control, its superb worldwide power distribution means a versatile system that goes – and plays – anywhere.
"The collective opinion shared by everyone involved is that this is one of the best acoustically designed and best-sounding arenas in the U.S. The acoustic treatment is everywhere and helps tame the usual challenges in a room this size," said MacDonald. "The coverage aligns well with the audience areas in the room while keeping energy off of the wall surfaces. Bandwidth of the system is superior to most systems found in arenas, and it has a wide open natural sound that is low in distortion, that is easy to listen to and does not create fatigue for the audience."
ABOUT HARMAN
HARMAN (harman.com) designs and engineers connected products and solutions for automakers, consumers, and enterprises worldwide, including connected car systems, audio and visual products, enterprise automation solutions; and connected services. With leading brands including AKG®, Harman Kardon®, Infinity®, JBL®, Lexicon®, Mark Levinson® and Revel®, HARMAN is admired by audiophiles, musicians and the entertainment venues where they perform around the world. More than 25 million automobiles on the road today are equipped with HARMAN audio and connected car systems. The Company's software services power billions of mobile devices and systems that are connected, integrated and secure across all platforms, from work and home to car and mobile. HARMAN has a workforce of approximately 29,000 people across the Americas, Europe, and Asia and reported sales of $6.7 billion during the 12 months ended March 31, 2016. The Company's shares are traded on the New York Stock Exchange under the symbol NYSE:HAR.
​