Sonic Wizardry: Legendary Rock Band Toto Records New Album at The Treehouse Using HARMAN's JBL LSR6300 Series Studio Monitors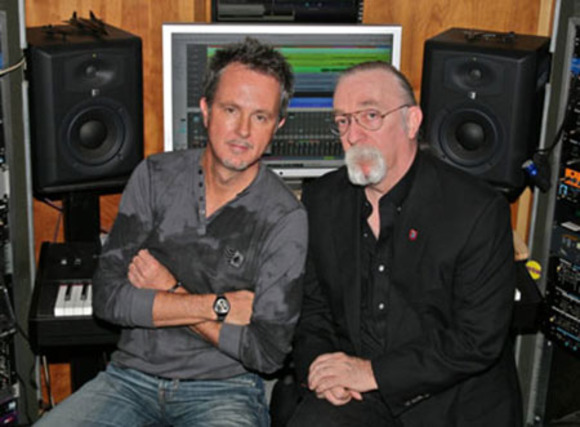 April 22, 2015
April 13, 2015 – For Immediate Release
Sonic Wizardry: Legendary Rock Band Toto Records New Album at The Treehouse Using HARMAN's JBL LSR6300 Series Studio Monitors
LAS VEGAS, Nevada – With sales of more than 35 million albums, mega-hits like "Hold The Line," "Rosanna" and "Africa" and numerous GRAMMY® awards to its credit, Toto is one of the most successful bands in music history. Its triple-platinum Toto IV was one of the records that defined the sound of 1980s rock. On March 20, the band released what it considers to be the rightful heir to that landmark LP: Toto XIV, recorded at Hollywood's The Treehouse using HARMAN's JBL LSR6300 Series studio monitors.

"We're really pumped about Toto XIV—so much that we've nicknamed the album Toto V because Toto IV is the band's biggest record and they really feel the current record is the best one they've ever made," said CJ Vanston, owner of The Treehouse. Toto XIV features the band's original members, who hadn't played a record together in more than 20 years.
Producer, songwriter and musician Vanston has worked with an enviable roster of artists including Prince, Barbra Streisand, Ringo Starr, Spinal Tap and many others. His credits include more than 100 movie and TV soundtracks and albums, and Vanston has done the music for all of Christopher Guest's movies (Waiting for Guffman, Best in Show, A Mighty Wind, and For Your Consideration).  
The Treehouse offers evidence of Vanston's sonic perfectionism in every corner, from its vintage guitars, amps and keyboards to its bleeding-edge recording gear–all heard through Vanston's preferred JBL LSR6300 studio monitors. "Those familiar with Toto know they got their start as first-call LA studio musicians who decided to form a band," Vanston pointed out. "These guys are among the most experienced and accomplished studio musicians in the world.
For Toto XIV the band wanted to recapture not only the musical feel but also the sonic signature of its classic albums. "Not many people are making music like this anymore with that big, wide, deep sonic production," Vanston pointed out. "But that's what people like, despite what the record companies say because they have to pay for it!" Vanston relied upon the accuracy of the JBL LSR6300 Series monitors to guide the production of a massive, yet detailed and layered sound the music demanded.

The band members came into the project well-prepared, bringing in demos done in Logic "that were so good they sounded like records before we even started in the studio," Vanston noted. All the songs were written in pre-production, enabling the musicians and Vanston to work efficiently at deciding what songs would be included on the album, determining what instrumental parts and vocals to include and choosing the best instruments, mics and amps to record them. "Although we wanted Toto XIV to hearken back to that big 1980s sound, none of us had any desire to indulge in the rock and roll excesses of recording back in the day, we sure didn't spend a week getting sounds!"
That said, the band members took their time to make sure all their parts were exactly right. "If something wasn't working it got voted off the island, but for the most part we all saw things the same way," Vanston said.
 "The LSR monitors excel in every sonic respect that matters–smooth frequency response, incredible detail and the ability to 'hear into' a mix," Vanston continued. "The LSR's have a powerful dynamic impact, but most importantly they ensured that what everyone was hearing was an accurate representation of what we laid down."
 "One of the benefits I really need to point out is that the drivers are designed to avoid ear fatigue," Vanston added. "If my ears are tired, knowing what the speakers are doing is impossible."
 "I know this is going to sound odd but because I know I can depend on them so completely," Vanston concluded, "probably the best thing I can say about the JBL LSR6300 Series is that I never have to think about them!"
 Recently, Vanston purchased the new JBL 3 Series studio monitors as well. "I purchased a pair of JBL LSR305 monitors and LSR310S subwoofer for my home rig, just intending to have small speakers to play music out of my office iMac—who knew I would fall in love with these speakers?!" Vanston remarked. "All of a sudden, I was finding reasons to work from home! These speakers have an unquantifiable quality of emotion. I just can't stop listening to them!"
 CJ Vanston's next project is a solo album with Jeff "Skunk" Baxter.
 HARMAN (www.harman.com) designs, manufactures and markets premier audio, visual, infotainment and enterprise automation solutions for the automotive, consumer and professional markets. With leading brands including AKG®, Harman Kardon®, Infinity®, JBL®, Lexicon® , Mark Levinson ® and Revel®, the Company is admired by audiophiles, musicians and the entertainment venues where they perform. More than 25 million automobiles on the road today are equipped with HARMAN audio and infotainment systems. HARMAN has a workforce of approximately 17,600 people across the Americas, Europe, and Asia and reported sales of $5.9 billion during the last 12 months ended December 31, 2014.