Panyatara Learning Service Center Creates Ideal Learning Environment Using HARMAN Professional's World-Class Audio-Visual Solutions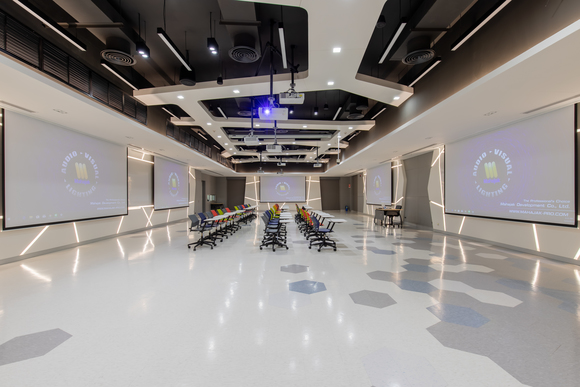 October 26, 2020
NONTHABURI, Thailand —To offer attendees an engaging training experience, the Panyatara Learning Service Center hired Mahajak Development Co. Ltd., to design and install a HARMAN Professional audio-visual and control solution.
Established by the Charoen Pokphan Group to operate Thailand's convenience store business under the "7-Eleven" trademark, the Panyatara Learning Service Center—part of the Panyatara Company—offers personalized training courses and seminars. The facility features a training room with 45-90 seats as well as another that accommodates up to 200 attendees. Wanting to provide guests an enhanced learning experience, the center equipped the training rooms with premium audio-visual (AV) and control systems that offer pristine sound as well as simple, intuitive operation.
"The client wanted an audio system that provides clear sound and music to keep trainees alert. For the visual system, they wanted high-definition video signals that could also be recorded," said Pongsakorn Kanchanachayphoom, Project Director, Mahajak Development Co. Ltd. "We provided and facilitated high-quality AV and control solutions using HARMAN's industry-leading systems."
To fill the training rooms with excellent sound, Mahajak installed JBL Control 14C/T two-way ceiling loudspeakers, which are positioned throughout the rooms to deliver smooth, consistent coverage. Mahajak also deployed digital processors, which help manage and configure the systems. The visual solution in the smaller training room consists of 120" and 180" motorized screens that display images from projectors, while digital signage displays, contactless smart cards and CCTV systems were also installed. The larger training room, which can be divided to create two rooms with two separate systems when needed, features an AV network that supports 4K resolution as well as eight 180" motorized screens that can work as a single screen or individual displays.
Further creating an ideal learning environment, two digital displays were installed at the entrance so the teachers could easily show the day's agenda. While the loudspeakers and displays create an engaging learning solution, Mahajak also equipped both training rooms with world-class control systems that are easy to use and efficient. AMX MKP Series wall ControlPads and Keypads allow trainers to easily adjust volume levels, turn the projector on and off, select sources and much more.
"We selected HARMAN for their versatility and simplicity. Our team trusted Mahajak to provide ingenious products, services and after-sales service, and we're glad to say that they have gone above and beyond our expectations," said a spokesperson for Panyatara Learning Service Center.
"Carefully constructed AV systems and reliable service are important for delivering world-class experiences," said Ramesh Jayaraman, VP & GM HARMAN Professional Solutions, APAC. "We would like to thank our partner Mahajak for understanding the clients' needs and for trusting HARMAN solutions to guarantee customer satisfaction."