Nobu Malibu Gets an Audio Upgrade with New JBL by HARMAN Control 88M Landscape Speakers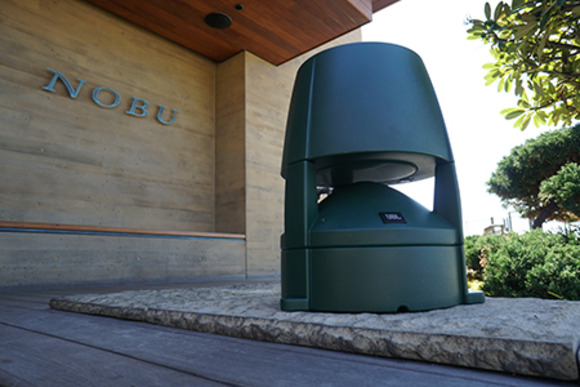 March 06, 2017
NORTHRIDGE, Calif.—Nobu Malibu recently upgraded its outdoor speaker system with new JBL by HARMAN Control 88M Mushroom Landscape Speakers. As the world's most recognized Japanese restaurant, Nobu is known for its precise attention to detail. After their previous outdoor speakers failed due to damage from lawn care equipment, Nobu hired audio integrator Russ DuBrow of Electronic Technology to install a new speaker system that could withstand the elements and deliver the highest quality sound. DuBrow selected the new JBL Control 88M Landscape speakers for their excellent full-range sound quality, 360-degree coverage and rugged weather-resistant design.
"I've been working with Nobu for more than 10 years and I service most of their locations on the West Coast," said DuBrow who was also part of multi-year design build for the Nobu Malibu location. "They wanted a new speaker system that could provide great sound quality and withstand regular lawn care and the elements. The JBL Control 88M speakers are highly durable and impervious to water, with excellent sound quality thanks to a great driver design. I have a lot of faith in the JBL product line, and the Control 88M is a great addition to their line of patio and landscaping speakers."
Designed to be mounted on or in the ground, Control 88M Landscape speakers can be used in a wide variety of applications including shopping malls, theme parks, sports venues, hotels, casinos, resorts, restaurants, hospitality and leisure venues, entrance ways, and anywhere a high-quality music or paging landscape speaker is required.
"We designed the speaker to unobtrusively and easily blend in with its surroundings," said Rick Kamlet, Senior Manager for Commercial Loudspeakers at JBL. "The tough polyethylene enclosure resists abuse from lawn care equipment and the elements, and the enclosure color extends throughout the material to ensure that the speaker will maintain color, even when scraped or scratched."  
Added DuBrow, "The patio itself is a beautiful location with multiple elevations and amazing views of the Pacific ocean and the Malibu Pier. It was critical that the speaker system be high quality to match the prestige of the venue, not only for looks, but for sound."
Learn more about JBL Control 88M speakers.