No Room for Missteps: Bruce Arledge Relies On HARMAN's JBL LSR6328P Monitors to Mix Live Sound for "Dancing With the Stars"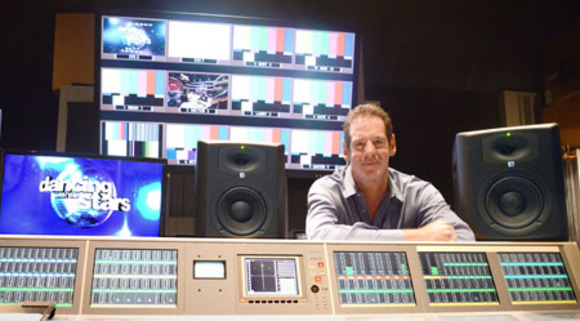 April 16, 2014
NORTHRIDGE, California — "Dancing With the Stars" needs little introduction—the hit show has captivated TV audiences for nine seasons, and audio mixer Bruce Arledge has been there for eight of them. There's no dancing around the fact that his job is critical—he's responsible for the on-air mix the viewing audience hears, and the show is completely live, not taped – meaning there's only one chance to get it right. For the current season, Arledge upgraded his monitor system to HARMAN's JBL LSR6328P studio monitors and an LSR6312SP subwoofer in a 5.1 configuration, which is enabling him to create better mixes than ever.
Arledge had heard the LSR6328P in the NARAS room at the 2014 GRAMMY Awards and was extremely impressed enough to want a system for his own use. With the assistance of JBL's Peter Chaikin, Arledge set up his 5.1 system in his mixing area, using the LSR Series' Room Mode Correction™ (RMC) feature that provides accurate low-frequency response in any listening room and speaker placement position. "The setup was basic, easy and user-friendly. I was surprised at how smoothly it went," Arledge said. He listens mostly in 5.1 mode but occasionally switches to a stereo downmix to hear what the mix sounds like on a TV.
Since installing the LSR monitors, Arledge has noticed a significant improvement in the quality of what he's hearing while mixing the show—which means better sound for home viewers. "The LSR6328P is extremely transparent—so much so that I find it liberating to listen on them as I know that what I'm hearing is translating perfectly into what listeners watching the show are hearing." Arledge finds the monitors' dialog clarity to be especially important. The show is heavy on dialog and he has to mix more than 40 wireless microphones plus 20 audience microphones, b-roll, bumper music and the live music feed delivered to him from engineer Mark King.
"Since the show is completely live there's no room for error and really no time to fix anything, so I don't like to use a lot of effects or processing, and the producers also want to deliver the excitement of the show as it's really happening," said Arledge. Because of this he doesn't use much EQ, compression, limiting or effects. "If you use quality microphones and proper gain structure, you shouldn't need EQ or other processing. I like to set the system right the first time. We are a live show. It is what it is."
Arledge likes the LSR6328P's clarity, bass response, and flat frequency response he finds "very much true to form. They allow me to achieve a clean, precise mix. The bottom line is, I'm hearing what the viewers are hearing at home. I love the JBLs. The show sounds better than ever."
In addition, the main house PA system for the show is comprised of JBL VERTEC® line arrays, VRX Constant Curvature loudspeakers and Control loudspeakers, all provided by ATK Audiotek of Valencia, California.
HARMAN designs, manufactures, and markets a wide range of infotainment and audio solutions for the automotive, consumer, and professional markets. It is a recognized world leader across its customer segments with premium brands including AKG®, Harman Kardon®, Infinity®, JBL®, Lexicon®, and Mark Levinson® and leading-edge connectivity, safety and audio technologies. The Company is admired by audiophiles across multiple generations and supports leading professional entertainers and the venues where they perform. More than 25 million automobiles on the road today are equipped with HARMAN audio and infotainment systems. HARMAN has a workforce of 14,800 people across the Americas, Europe, and Asia and reported sales of $4.7 billion for the last twelve months ended December 31, 2013.