Nagashima Spa Land Delivers Amplified Guest Experiences with JBL Professional by HARMAN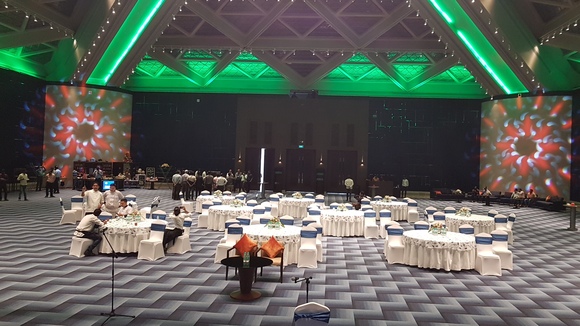 September 24, 2019

KUWANA, Japan  —
Hibino Corporation recently outfitted Nagashima Spa Land with a state-of-the-art HARMAN Professional audio solution to provide premium live entertainment experiences for guests.
With more than 50 rides and attractions, Nagashima Spa Land is one of Japan's largest amusement parks, and is one of the 20 most visited amusement parks in the world. After celebrating its 50th anniversary in 2014, the park continues to evolve by introducing exciting new attractions, such as the 4D Spin Coaster Arashi. The park recently hired audio integrator HIBINO to enhance its guest experiences with significant upgrades to its existing audio system.
"Nagashima Spa Land asked us to install a robust, self-contained solution to deliver exceptional audio clarity during events," said a spokesperson from Hibino Corporation. "With the park's seaside location, the speakers needed to be able to withstand seawater salt damage as well as wind and rain. After careful consideration, we selected HARMAN Professional audio solutions to construct a system which would provide the necessary flexibility and allow the park to easily expand its platform in the future."
After conducting extensive market research on outdoor-rated loudspeakers, Nagashima Spa Land and Hibino selected JBL Professional AWC82, AWC129 and AWC15LF All-Weather speakers to combat the dangerous environmental challenges. The JBL All-Weather Series speakers feature a 14-gauge stainless steel grille, backed with open cell foam and stainless-steel mesh, providing excellent protection in the harshest environments. Hibino placed the JBL AWC speakers throughout the park to deliver background music with optimum wide-angle sound coverage and excellent audio quality with the highest level of weather resistance.
Hibino included JBL Control 25-1 speakers to ensure all announcements are heard loud and clear throughout the park. The team also installed highly directional CBT 50LA-1, CBT 70J-1 and CBT 70JE-1 column speakers at the main gate and other attraction entrances to greet guests with powerful music and invite them into the thrilling experiences that await inside.
"We needed to replace our outdated audio system with a new system that would enliven the park's atmosphere," said a spokesperson from Nagashima Spa Land. "The new system needed to be able to withstand water and other environmental perils. The HARMAN system proved to be the perfect choice. After the upgrades, we no longer receive complaints about the sound—in fact, many guests have complimented the sound quality in surveys. We are pleased to say that the HARMAN system has produced truly satisfying experiences for guests and staff alike."
"It is a privilege to supply robust audio solutions and provide premium sound quality and clarity at Nagashima Spa Land," said Ramesh Jayaraman, VP & GM, HARMAN Professional Solutions, APAC. "We thank Hibino for their exceptional service, replacing the park's outdated sound system with industry-leading audio reinforcement solutions and creating an immersive space."