Kenny Mixx Steps Up His Game with HARMAN's JBL M2 Master Reference Monitors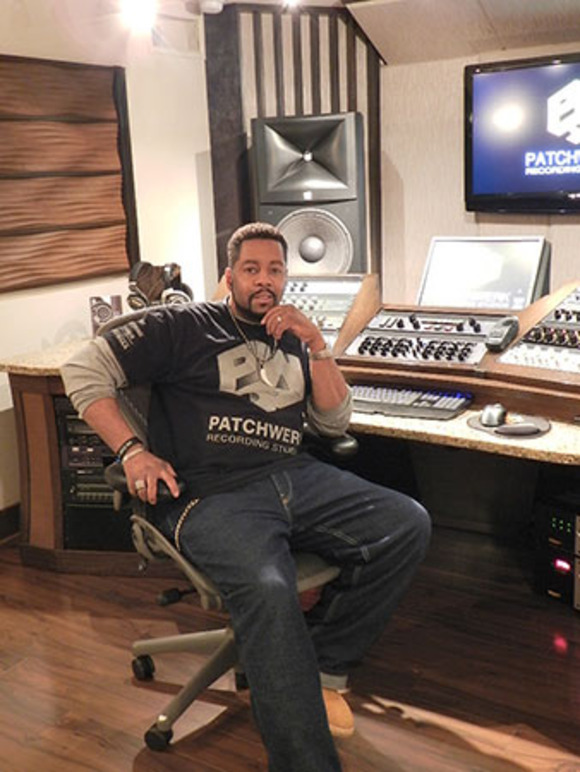 June 10, 2015
March 26, 2015 – For Immediate Release
Kenny Mixx Steps Up His Game with HARMAN's JBL M2 Master Reference Monitors
ATLANTA, Georgia – Atlanta-based mastering engineer Kenny "Mixx" Daniels of Patchwerk Studios in Atlanta has a list of credits that reads like a "who's who" of the hip-hop industry: Prince, Ludacris, Nelly, T.I and Rick Ross, to name a few. In his control room at Patchwerk Studios, Kenny Mixx recently installed a pair of JBL M2 Master Reference Monitors in his mastering room.
The largest speaker in JBL's studio monitor line, the M2 integrates new JBL transducer technologies and patented innovations in a free-standing, 2-way main monitoring system that provides a superior level of accuracy and performance in a broad range of production environments. Today, Kenny Mixx hosts top clients in his M2-equipped mastering room, and his projects dominate the airwaves.
A longtime user of JBL studio monitors, Kenny Mixx explains why he fell in love with the M2 speakers: "Let's go back to the name: JBL M2 Master Reference Monitors. That sounds great! The M2 Master Reference Monitor truly is a speaker worthy of its name." As soon as the M2 speakers went into production, Kenny evaluated one of the first sets available. "At the time, I was still using my JBL LSR6328P studio monitors with matching dual subs and hadn't planned on changing my trusted set up, because if it's not broke then don't fix it, right?"
However, after setting up and listening to the M2 monitors for the first time, Kenny realized everything had changed. "I'll have to admit it took me every bit of a few seconds to realize that this speaker was different, and get this: I was sitting off-axis to the far right of the speaker and the imaging was phenomenal—very smooth-sounding," he said. "Everything sounded familiar, but it was like the sound was on steroids all around. I had to have them."
"Kenny is an exceptional talent," said Peter Chaikin, JBL Professional Senior Manager, Recording and Broadcast Marketing. "I was honored to receive a call from Kenny one day, telling me he was using JBL studio monitors on his projects. We developed a great relationship and during M2 development, we discussed the M2 might be the perfect solution for his new room at Patchwerk. As soon as the speakers were available, Kenny spent time with a set. I traveled to Atlanta when Kenny was dialing them in, and hearing his projects made both of us smile."
Speaker calibration was accomplished using the room EQ in the Crown I-Tech amplifiers and Rational Acoustics' SmaartLive software. Spending time with the speakers, Kenny refined the tuning over a period of days. "When I hit play after recalibrating my room, the system not only blew my socks off, but I was truly amazed at how tight and precise the low frequencies were. There was no overhang or that dreaded tubby bass ringing that I hate in other designs. 
"When your speaker cones are still moving when they should not be, then they not only falsify bass notes; they also tend to smear soundstage detail," Kenny continued. "In other words, the speakers aren't playing back the same song. I read some really cool stuff about HARMAN's approach to achieving highly accurate lows, based on the Crown I-Tech 4x3500HD power amp's super-high damping factor and the M2's dual voice coils wound with special wire that doesn't change impedance as the voltage or volume increases."
According to Kenny, the difference in HARMAN's ability to achieve these lows is night and day, when compared to other systems. "Man oh man, when you hear the system as a whole with the waveguide and D2 high-frequency driver you will know exactly what I'm referring to," he said. "The waveguide with D2 drivers draw such a clean, smooth center image that time and time again clients compliment the speakers on how 3D and holographic they sound."
In fact, Kenny even admits that the speakers' accuracy is so dead-on that it's taken him some time to fully adjust. "True story: as I was working on a song one day I would periodically mute my speakers and turn around to answer the phone behind me on my coffee table but it turned out no one was paging me—I was actually hearing sounds that were out of phase in the mix that I was working on! Now that's imaging."
HARMAN (www.harman.com) designs, manufactures and markets premier audio, visual, infotainment and enterprise automation solutions for the automotive, consumer and professional markets. With leading brands including AKG®, Harman Kardon®, Infinity®, JBL®, Lexicon® , Mark Levinson ® and Revel®, the Company is admired by audiophiles, musicians and the entertainment venues where they perform. More than 25 million automobiles on the road today are equipped with HARMAN audio and infotainment systems. HARMAN has a workforce of approximately 17,600 people across the Americas, Europe, and Asia and reported sales of $5.9 billion during the last 12 months ended December 31, 2014.