Jeonju National University of Education Delivers Premium Sound Quality with HARMAN Professional Solutions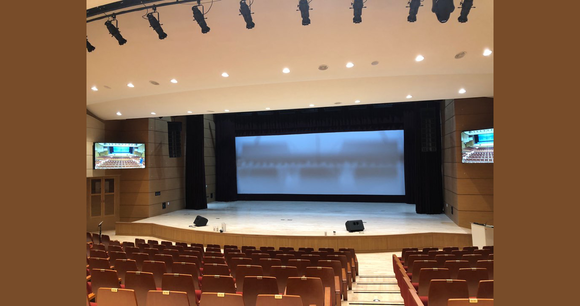 June 25, 2021
JEONJU, South Korea—HARMAN Professional Solutions recently collaborated with TechDataPS to equip Jeonju National University of Education's multipurpose concert hall with a cutting-edge live sound reinforcement system.
Jeonju National University of Education's Hwanghak Hall is a 28-year-old building that was recently remodeled. In addition to seminar rooms, waiting areas and dressing rooms, the 9,800-square foot facility features a 470-seat multipurpose auditorium. In order to ensure premium sound quality in the auditorium, the university needed a modern sound system. Jeonju National University of Education hired TechDataPS to outfit the performance space with state-of-the-art audio solutions by HARMAN Professional Solutions, including JBL Professional loudspeakers, Crown amplifiers, Soundcraft mixers.
TechDataPS reported that Jeonju National University required a simple-yet-dynamic audio system to produce impactful events in their concert hall for students and guests. They went on to say that their team focused on precise speaker positioning and tuning to deliver pristine audio in the auditorium. JBL speakers proved ideal for the project, thanks to their clear voice transmission and excellent resolution.
Since Hwanghak Hall is also used as a lecture room for students, TechDataPS installed JBL VerTec VT4886 line array speakers as the main system to ensure clear speech intelligibility to every seat in the house. The team powered the loudspeakers with Crown I-Tech 4x3500HD, XTi 1002, XLi1500 and XLi800 amplifiers. To enable professional-sounding mixes for a wide range of events, TechDataPS included Soundcraft Si Expression 3 audio mixers.
University staff reported that the HARMAN system installed by TechDataPS delivers balanced sound coverage and natural sound quality during lectures and performances in the auditorium. They went on to say that JBL VT4886 speakers provide several benefits, including a uniform dispersion pattern that helps to minimize echo in the room, and a frequency response that is appropriate for the space.
"It is a privilege for HARMAN to support interactive learning styles and provide sophisticated audio systems for a wide range of events at Jeonju National University of Education," said Amar Subash, VP & GM, APAC, HARMAN Professional Solutions, "HARMAN thanks TechDataPS for providing dedicated customer service throughout the project, and transforming the university concert hall into a lively space for both students and guests."