JBL Professional LSR6300 Series Studio Monitors and VERTEC® Line Arrays Support the Music Industry's Best at the 56th Annual GRAMMY® Awards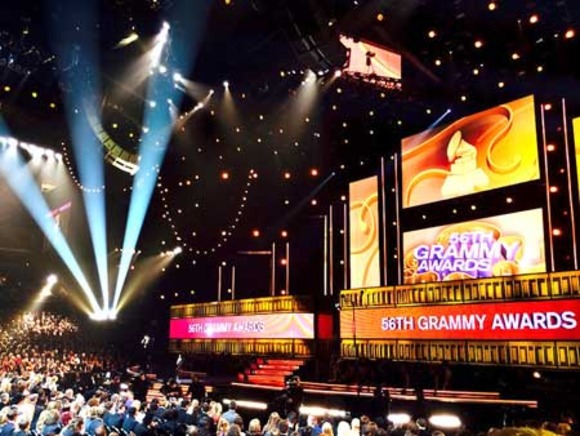 February 21, 2014
LOS ANGELES, California – HARMAN's JBL loudspeakers were once again put to use at Sunday's 56th Annual GRAMMY® Awards, with JBL VERTEC® line arrays comprising the live sound reinforcement system at the STAPLES Center and a JBL LSR6300 Series 5.1 surround sound studio monitor system used in the Television Committee Room.

The annual GRAMMY Awards telecast, known as Music's Biggest Night®, is presented by The Recording Academy® to honor outstanding achievements in the production and performance of recorded music. The GRAMMY Awards were broadcast live in HDTV and 5.1 surround sound on the CBS Television Network. More 28.5 million viewers watched this year's Awards telecast.
This year's Awards were hosted by LL Cool J and featured performances by Paul McCartney and Ringo Starr, Madonna, Beyonce, Jay-Z, Bruno Mars, Katy Perry and more. Macklemore and Ryan Lewis earned Best New Artist, Lorde won Song of the Year for "Royals," while Daft Punk won Album of the Year for Get Lucky, plus two other GRAMMY Awards.
In addition, HARMAN's Lexicon earned a Technical GRAMMY Award, which is presented to individuals and companies that have made contributions of outstanding technical significance to the recording field.
ATK Audiotek provided the main PA system for the Awards ceremony, which featured four arrays each containing 12 VERTEC VT4889 fullsize line array elements, plus two arrays of six VT4880A fullsize arrayable subwoofers each. An additional 12 VRX932 Constant Curvature loudspeakers were used for front fill.
The STAPLES Center also features a permanent JBL VERTEC line array system, which ATK Audiotek also utilized. The STAPLES Center system features eight arrays each containing between 11 and 13 JBL VT4889DP-DA powered line array elements, plus two fill clusters each containing four VT4889DP-DA elements, which are specially positioned to cover the end seating areas. The system also features four subwoofer arrays, each containing six VT4880A fullsize arrayable subwoofers.
In the Television Committee Room, Michael Abbott, Audio Director for the GRAMMY Awards, along with Recording Academy executives, relied on five JBL LSR6328P studio monitors and two LSR6312SP subwoofers to listen to the mix of the show in real time. "Attention to detail is always essential for the GRAMMY telecasts, and this year's Awards were no different," Abbott said. "Thanks to the LSR6300's accuracy and RMC Technology, we were able to hear every nuance of the performances, and the 6300's gave us exactly what we needed."
Photo Caption (Left to Right): Hank Neuberger, GRAMMY Awards Telecast Sound Supervisor; Bryan Bradley, Vice President, General Manager, JBL Professional; Michael Abbott, GRAMMY Awards Audio Director

HARMAN designs, manufactures, and markets a wide range of infotainment and audio solutions for the automotive, consumer, and professional markets. It is a recognized world leader across its customer segments with premium brands including AKG®, Harman Kardon®, Infinity®, JBL®, Lexicon®, and Mark Levinson® and leading-edge connectivity, safety and audio technologies. The Company is admired by audiophiles across multiple generations and supports leading professional entertainers and the venues where they perform. More than 25 million automobiles on the road today are equipped with HARMAN audio and infotainment systems. HARMAN has a workforce of 14,800 people across the Americas, Europe, and Asia and reported sales of $4.7 billion for the last twelve months ended December 31, 2013.
###