"I'm A Believer": Neil Diamond Takes New HARMAN's JBL VTX V25-II Line Array Loudspeaker On Its Maiden Voyage Throughout America, Europe & Australia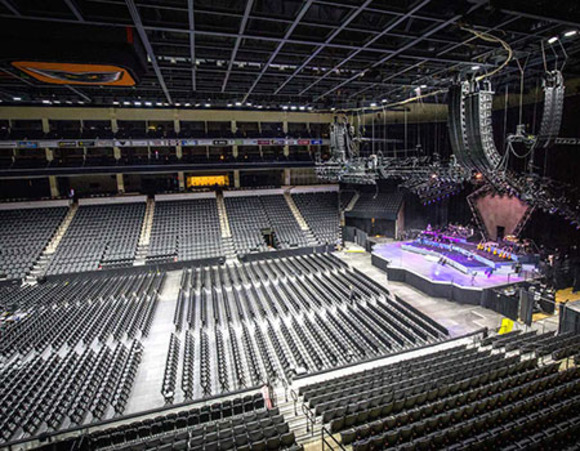 May 26, 2015
May 19, 2015 – For Immediate Release
"I'm A Believer": Neil Diamond Takes New HARMAN's JBL VTX V25-II Line Array Loudspeaker On Its Maiden Voyage Throughout America, Europe & Australia
NORTHRIDGE, California — Neil Diamond is back on the road and is the first artist to perform with HARMAN's new JBL Professional VTX V25-II line array loudspeakers. Sound Image is providing the live sound reinforcement for the tour, which is scheduled to extend through to the end of 2015. Crown I-Tech HD amplifiers are powering the system, while stage microphones come courtesy of AKG.
While the system configuration sometimes changes for specific venues, the main system typically consists of 16 VTX V25-II line array elements per side in a left-right configuration, along with 12 VTX S28 subwoofers per side and a total of 64 VTX V20 loudspeakers for out fill and side fill. In addition, a total of 24 VERTEC® VT4886 loudspeakers provide reinforcement to the seating behind the stage. The system is powered with more than 100 Crown I-Tech 12000HD amplifiers for a total of 1.6 million watts of power. A variety of AKG C414 and D5 microphones are being used, along with AKG wireless systems with D5 heads for vocals. The system is monitored and controlled with JBL HiQnet Performance Manager™ software.
"After thousands of shows and over more than 45 years on the road as Neil Diamond's sound designer and front-of-house engineer, you can be sure I've used every kind of sound system in every possible configuration," said Stan Miller, Neil Diamond's longtime engineer. "We are demanding when it comes to system performance and continually try new approaches to achieve our goals. Hands down, the JBL VTX system we're currently touring with provides the best sound we've ever had."
"Stan Miller has been a good friend for decades and Sound Image has wanted to work with him on a Neil Diamond tour for many years, so I'm thrilled that this tour has given Stan the best system he has ever heard," said Dave Shadoan, President of Sound Image.
Miller notes performance consistency as one the main reasons why the VTX has impressed day in and day out. "Over the course of this year-long tour, we'll be in every kind of venue with every kind of variable. It's imperative for this show to sound its best in spite of the issues or idiosyncrasies each room may throw our way. There's no question that arenas have their acoustic challenges—and no matter what we're up against, this system delivers. Three months into the tour, I can tell you that we now have the most consistent system performance we've ever had—every single day for every single show. No other system we've ever used has met that demand so gracefully or consistently," Miller said.
In addition, the VTX system's sound quality puts it head and shoulders above the competition. "I push this system hard," Miller noted. "With more than a million watts of horsepower at the ready, it takes everything we dish out and more. The frequency response is beyond anything I've ever heard: clean and crisp highs, a butter-smooth mid-range and punchy, tight low end. And that's not only at the house mix position: it's the same throughout the entire venue, which makes it even more impressive."
Although Miller and his team face different acoustic and physical challenges in each venue, the VTX system provides the ability to accommodate every environment with no change in quality of the system's performance. "The nuts-and-bolts engineering that has gone into the VTX system makes the physical system configuration easier than ever," Miller added.
"I'm a tough customer when it comes to sound systems," Miller concluded. "I've seen it all and heard it all. When I say this is the best system I've ever used, I mean it. The extraordinary engineering from JBL makes my job a real pleasure and Neil Diamond's show sounds better than ever. 
Sam Helms, President of HARMAN regional representative Sigmet Corporation, noted:  "In all my years of touring experiences, I have never been more proud to be associated with the incredible performance of these two new systems that we have out on this tour. The new VTX Series of products continue to prove over and over, every night, every venue, that we have come to the next level of performance that we have all been waiting for.
For more information on Sound Image, please visit www.sound-image.com
HARMAN (harman.com) designs and engineers connected products and solutions for consumers, automakers, and enterprises worldwide, including audio, visual and infotainment systems; enterprise automation solutions; and software services. With leading brands including AKG®, Harman Kardon®, Infinity®, JBL®, Lexicon®, Mark Levinson ® and Revel®, HARMAN is admired by audiophiles, musicians and the entertainment venues where they perform around the world. HARMAN also is a technology and integration services leader for the Automotive, Mobile, Telecommunications and Enterprise markets. More than 25 million automobiles on the road today are equipped with HARMAN audio and infotainment systems. The Company's software solutions power billions of mobile devices and systems that are connected, integrated, personalized, adaptive and secure across all platforms, from the work and home to car and mobile. HARMAN has a workforce of approximately 25,000 people across the Americas, Europe, and Asia and reported sales of $5.9 billion during the last 12 months ended March 31, 2015.




Press Release PDF