DJRANDEE Manages Audio For Thai New Year Fest With HARMAN's JBL Loudspeakers and Soundcraft Mixing Consoles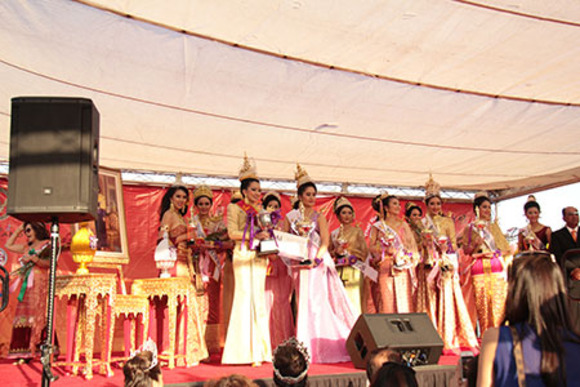 June 11, 2015
DJRANDEE Manages Audio For Thai New Year Fest With HARMAN's JBL Loudspeakers and Soundcraft Mixing Consoles
LOS ANGELES, California – While mainly catering to small and midsize events, Randy Trinidad (also known as DJRANDEE) took advantage of the power and size of HARMAN's JBL VRX, PRX and SRX loudspeakers, and Soundcraft Si Performer consoles to create impeccable sound coverage for four different stages at the massive Thai New Year Festival this year in Los Angeles.
Trinidad's experience with audio stems from his lifelong dedication to mixing great music as a DJ since 1987, having covered major events such as, Carson 4th of July, Fil-Am Concert show and now for the fourth year in a row, the Thai New Year Festival. Since the stages of this event were spread out over two miles in the heart of LA with a crowd of 80,000 people, Trinidad opted for a portable load-out that was quick to set up 
The Boxing Stage featured Muay Thai kickboxing, which Trinidad supported with two JBL VRX932LAP powered loudspeakers per side with one VRX918SP subwoofer per side. The Entertainment Stage featured local and international bands, and their music went through two VRX932LAP loudspeakers per side and one VRX918SP subwoofer per side. The sound for this area was mixed on a Soundcraft Si Performer 1 digital console.
For an event like this, there were many different performance elements, so voice intelligibility, music clarity and high output levels were important," said Trinidad. "We used VRX932LAP loudspeakers for both the Boxing Stage and the Entertainment Stage, because they give you the best of both worlds. Since the VRX Series are Constant Curvature line array loudspeakers, they are also easier for us to quickly deploy when compared to conventional line array boxes."
The Main Stage also featured music and performances, and was reinforced with one JBL SRX815P powered loudspeaker per side, a single SRX812P powered loudspeaker as monitor and one SRX818SP powered subwoofer per side. The sound for this stage was also controlled with a Soundcraft Si Performer 1 console. The Cultural Stage featured traditional Thai dances and was reinforced with one JBL PRX715 loudspeaker per side, and one PRX718 subwoofer per side.
The Si Performer 1 features 80 inputs to mix, Soundcraft's patented FaderGlow™ and illuminated channel displays for instant mix status, plus a DMX interface and control, which allows for simultaneous control of light and sound, all from the console's control surface.
"We use the Si Performer 1 a lot for the simultaneous access to lighting and sound," said Trinidad. "For this event, despite not needing lighting controls, we wanted something portable and easy to use, so this console still worked out great for that purpose."
"The JBL PRX and SRX loudspeakers and Soundcraft Si Performer consoles are all compact products that provide world-class quality for outdoor settings like this one," Trinidad concluded. "Portability is what I always look for as a DJ, and HARMAN has the perfect products for that."
 HARMAN (harman.com) designs and engineers connected products and solutions for consumers, automakers, and enterprises worldwide, including audio, visual and infotainment systems; enterprise automation solutions; and software services. With leading brands including AKG®, Harman Kardon®, Infinity®, JBL®, Lexicon®, Mark Levinson ® and Revel®, HARMAN is admired by audiophiles, musicians and the entertainment venues where they perform around the world. HARMAN also is a technology and integration services leader for the Automotive, Mobile, Telecommunications and Enterprise markets. More than 25 million automobiles on the road today are equipped with HARMAN audio and infotainment systems. The Company's software solutions power billions of mobile devices and systems that are connected, integrated, personalized, adaptive and secure across all platforms, from the work and home to car and mobile. HARMAN has a workforce of approximately 25,000 people across the Americas, Europe, and Asia and reported sales of $5.9 billion during the last 12 months ended March 31, 2015.
###