Belmont University Reopens Legendary Columbia Studio A with HARMAN's JBL M2 Master Reference Monitors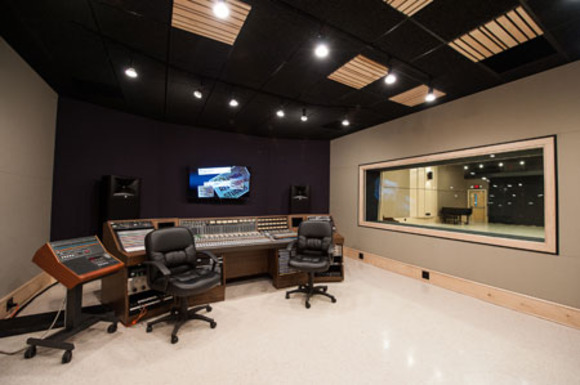 January 19, 2015
NASHVILLE, Tennessee — As befits its Nashville location, Belmont University has close ties to the music industry—its 

Mike Curb College of Entertainment and Music Business (CEMB) is the world's only AACSB (Association to Advance Collegiate Schools of Business)-accredited Music Business program as well as the first ABET (Accreditation Board for Engineering and Technology)-accredited Audio Engineering Technology program. Among its numerous activities the school runs four professional-quality recording studios on campus, the historic Quonset Hut Studio, Ocean Way Nashville Studios—and now, the recently renovated Columbia Studio A, equipped with HARMAN Professional's JBL M2 Master Reference Monitors.
The JBL M2 Master Reference Monitor is a 2-way powered large-format loudspeaker that sets new standards for sonic accuracy and dynamic range in professional monitoring environments. It incorporates JBL's latest transducer and acoustics technologies including the newly developed D2 dual-diaphragm, dual-voice-coil compression driver, the Image Control Waveguide, the 2216ND Differential Drive™ dual-voice-coil woofer and numerous additional refinements to deliver exceptional studio monitor performance with remarkable detail, full-range frequency response from 20Hz–40kHz, spatial accuracy and wide dynamic range free of power compression.
Opened in the 1960s, the historic Columbia Studio A recorded many of music's greatest artists, including Bob Dylan, Johnny Cash, Simon and Garfunkel, George Jones, and many more. However, by the early 1980s it had been converted into an office space. Thanks to the efforts of Belmont University and a donation by the Mike Curb Foundation, Columbia Studio A is making music again as a multi-purpose space for classes in recording studio engineering and sound reinforcement. It also hosts workshops and seminars for a variety of university activities and organizations like the Audio Engineering Society (AES) and the US Copyright Office.
"In order to serve our academic requirements, Columbia Studio A features a wide variety of recording equipment dating from the 1960s all the way to the present, as evidenced by our purchase of the JBL M2 monitors," said Michael Janas, Instructor, Audio Engineering Technology and Director of Recording Studio Operations at Belmont University. Studio A boasts an eye-popping assortment of restored vintage and modern cutting-edge gear, all routed through an API split monitor console that once resided in the RMU-2 mobile recording truck of recording pioneer, Walley Heider.
"In restoring Columbia Studio A, one of the goals was to let students experience the evolutionary roots and the historical and technical context of multi-track recording studio technology as we know it today," Janas stated. "In order for the students and faculty to best hear and understand the aural characteristics of this wide range of equipment, it was important to choose a modern monitoring system that would best reproduce the sound of the source audio in our new 'old' studio."
Janas turned to the project's acoustical consultant, Dave Rochester of Lebanon, Tennessee's Technical Audio Services, for advice. Rochester recommended Janas consider the JBL M2. Janas and his team did their homework, ultimately consulting with JBL Professional and the staff at Guitar Center Pro (GC Pro) in Nashville. They liked what the saw and heard and in January 2014 finalized the decision to purchase a pair of M2 monitors and a Crown I-Tech HD Series 4x3500HD amplifier to power them. The Crown amp provides four channels of amplification for the pair of bi-amplified M2s and its internal DSP provides the crossover and also room EQ to optimize the M2 system performance in any room.
"The JBL M2 is stunning in its ability to present fine detail," Janas pointed out. "The outstanding imaging of the speaker is by far one of my favorite attributes of the system. The M2 not only provides a wide stereo sound field but also depth and height. It's made a significant impact on everyone who's heard it." Designed specifically for the M2, JBL's Image Control waveguide enables a seamless crossover transition between the woofer and high-frequency driver while delivering extraordinary imaging and rich musical detail to a broad area of the room.
"The M2 turned out to be absolutely perfect for our application. It enables students and staff to hear everything that's going on in the studio with exacting detail. It reveals the sonic characteristics of every piece of gear we add or take out of the recording chain, whether a microphone, reverb unit, EQ or other link in the recording chain. In fact, it showed us that some of that vintage gear is a lot better than anyone realized."
HARMAN (www.harman.com) designs, manufactures and markets premier audio, visual, infotainment and enterprise automation solutions for the automotive, consumer and professional markets. With leading brands including AKG®, Harman Kardon®, Infinity®, JBL®, Lexicon®, Mark Levinson ® and Revel®, the Company is admired by audiophiles, musicians and the entertainment venues where they perform. More than 25 million automobiles on the road today are equipped with HARMAN audio and infotainment systems. HARMAN has a workforce of approximately 16,600 people across the Americas, Europe, and Asia and reported sales of $5.6 billion for the 12 months ended September 30, 2014.