JBL by HARMAN Introduces Weather-Resistant 360 Degree Landscape Loudspeakers at InfoComm 2016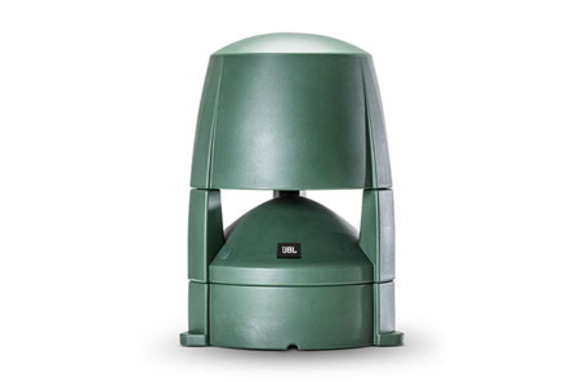 June 08, 2016
LAS VEGAS—Today at InfoComm 2016, JBL by HARMAN introduced the Control 80 Series Landscape Loudspeakers. The Control 80 Series features two highly weather-resistant models, engineered to provide excellent full-range sound quality and 360-degree coverage. Designed to be mounted on or in the ground, the Control 80 Series can be used in a wide variety of applications, including shopping malls, theme parks, sports venues, hotels, casinos, resorts, restaurants, hospitality, entrance ways, leisure venues and anywhere a music and/or paging landscape loudspeaker is required.
Compact in design, the Control 80 Series loudspeakers are unobtrusive and easily blend in with their surroundings. Both models are IP56-certified with polyethylene enclosures that resist abuse from the elements. The enclosure color extends throughout the material, so the speaker will maintain its color even when scraped or scratched. A built-in transformer allows use on 70V or 100V distributed systems, or can be set to 8 ohms for low-impedance operation with an easy-to-access tap selector.
"We designed the Control 80 Series loudspeakers to have a modern appearance that blends in well with a variety of commercial landscapes," said Rick Kamlet, Senior Manager, Commercial Loudspeakers, HARMAN Professional Solutions. "Their ability to provide high-fidelity, 360-degree coverage makes them highly effective as ground-mounted loudspeakers for outdoor locations where providing high-quality audio has been typically difficult."
Available in two configurations, the smaller JBL Control 85M is a two-way speaker system, featuring a highly weather-resistant 5¼-inch low frequency driver and ¾-inch tweeter. The 85M provides 80 watts of continuous pink noise power handling (320 watts continuous peak) in the direct 8 ohm setting, plus has a built-in 30 watt 70V/100V multi-tap transformer. The 85M features a high-fidelity sound character with a broad frequency range of 55 Hz – 18 kHz.
The larger Control 88M features a highly weather-resistant 8-inch driver and 1-inch tweeter, providing 120 watts of continuous pink noise power handling (480 watts continuous peak) in the direct 8 ohm setting, plus a built-in 60 watt 70V/100V multi-tap transformer. The 88M features an extended bass response with a broad frequency range of 47 Hz – 16 kHz. Both models feature SonicGuard™ overload protection for preventing damage from occasional overdriving.
ABOUT HARMAN
HARMAN (harman.com) designs and engineers connected products and solutions for automakers, consumers, and enterprises worldwide, including connected car systems, audio and visual products, enterprise automation solutions; and connected services. With leading brands including AKG®, Harman Kardon®, Infinity®, JBL®, Lexicon®, Mark Levinson® and Revel®, HARMAN is admired by audiophiles, musicians and the entertainment venues where they perform around the world. More than 25 million automobiles on the road today are equipped with HARMAN audio and connected car systems. The Company's software services power billions of mobile devices and systems that are connected, integrated and secure across all platforms, from work and home to car and mobile. HARMAN has a workforce of approximately 29,000 people across the Americas, Europe, and Asia and reported sales of $6.7 billion during the 12 months ended March 31, 2016. The Company's shares are traded on the New York Stock Exchange under the symbol NYSE:HAR.