JBL by HARMAN Introduces Control 18C/T In-Ceiling Loudspeaker at InfoComm 2016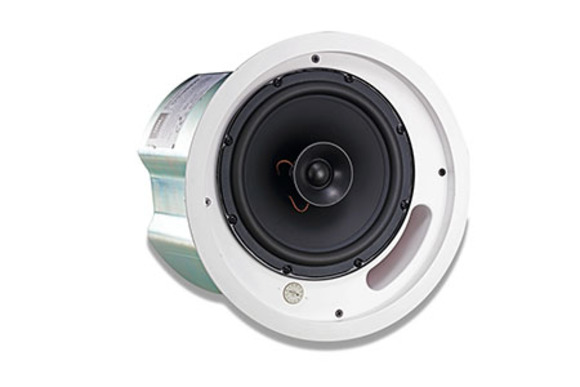 June 08, 2016
LAS VEGAS
—
JBL by HARMAN today introduced the Control 18C/T, the first 8-inch model in the popular JBL Control 10 Series of blind-mount ceiling speakers. The Control 18C/T features an 8-inch, low-frequency driver and 1-inch, high-frequency driver, providing high output fidelity with excellent bass and a tight coverage pattern, making it ideal for high-ceiling applications and projects requiring greater levels of bass output.
Control 18C/T Series meets the increased market demand for an affordable 8-inch, two-way blind-mount ceiling speaker for higher output level, extended bass response, and a tight and consistent coverage pattern.
"The Control 18C/T is a cost-effective, high-output and high-fidelity ceiling speaker that works in a wide variety of venues, including hotels, ballrooms, casinos, music cafes, lounges, convention centers and much more," said Rick Kamlet, Senior Manager, Commercial Loudspeakers, HARMAN Professional Solutions.
Control 18C/T ceiling speakers are perfect for applications where the sound needs to project to cover a distance, and where narrow coverage is especially desirable for achieving sonic clarity while minimizing disruptive over-splash. The built-in 60 watt multi-tap transformer allows for use on either 70V or 100V distributed lines, and the tap selector can be set for direct 8 ohm operation. Everything needed for most installations is provided, including a C-ring, tile rails for suspended ceilings, grille and paint shield.
The blind-mount design (via the pre-attached backcan) allows for quick installation. In addition to included accessories, a new-construction bracket and mud-ring bracket are also available for new-construction hard ceilings.
ABOUT HARMAN
HARMAN (harman.com) designs and engineers connected products and solutions for automakers, consumers, and enterprises worldwide, including connected car systems, audio and visual products, enterprise automation solutions; and connected services. With leading brands including AKG®, Harman Kardon®, Infinity®, JBL®, Lexicon®, Mark Levinson® and Revel®, HARMAN is admired by audiophiles, musicians and the entertainment venues where they perform around the world. More than 25 million automobiles on the road today are equipped with HARMAN audio and connected car systems. The Company's software services power billions of mobile devices and systems that are connected, integrated and secure across all platforms, from work and home to car and mobile. HARMAN has a workforce of approximately 29,000 people across the Americas, Europe, and Asia and reported sales of $6.7 billion during the 12 months ended March 31, 2016. The Company's shares are traded on the New York Stock Exchange under the symbol NYSE:HAR.