JBL and Crown Elevate the Live Music Experience At Dierks Bentley's Whiskey Row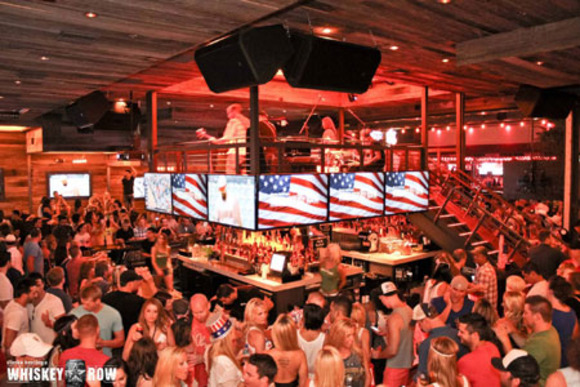 April 30, 2014
SCOTTSDALE, Arizona – Not your average music venue, Dierks Bentley's Whiskey Row serves up American gastropub food, drinks and live music, with some twists – table taps that allow guests to pour their own refreshments, giant video screens everywhere, and a live music stage equipped with HARMAN's JBL loudspeakers and Crown amplifiers – which are elevated above the tables and crowd. It offers an alt-country environment with a punk-rock heart and a dance club pulse, courtesy of national and local artists and DJs.
Management company Riot Hospitality Group turned to a name that's familiar to anyone in the music industry but perhaps not so well-known as a pro sound systems integrator: Sam Ash Music. "I've had a longstanding relationship with Riot Hospitality Group and we've designed and built and retrofitted other systems for them before," said Jason Goldin, general manager of the Glendale, Arizona Sam Ash. "They were new to the live music space but knew it was a field that we have been involved in for decades. There's nothing music-related that we can't do." Goldin collaborated with Arizona HARMAN Professional manufacturers' representative, HP Marketing Company's Andy Connors for additional design input.
Whiskey Row's owners asked Goldin to help design a streamlined club/live sound rig that could integrate into the venue's video-rich environment – and accommodate the unusual sonic requirements of the elevated stage, suspended above the bar. Whiskey Row's all-HARMAN Professional audio system features six JBL STX835 loudspeakers, four STX828 subwoofers and six JBL PRX612M stage monitors. The loudspeakers for the stage above the bar – including the stage monitors – are suspended from the ceiling, and the loudspeakers for the main stage are hung from the bottom of the stage itself. In addition, two JBL PRX415 loudspeakers serve the outdoor patio.
The loudspeakers are powered by a combination of three Crown Macro Tech 12000i, two Macro Tech 5000i and an XTi 2 Series 4002 amplifier. "They have a lot of 'intelligent' features to help in system management, are loud and have that presence that the classic MA Series and other Crown amps have always had," Goldin noted.
A Soundcraft Si Expression 2 24-channel digital console with Compact Stagebox and MADI digital snake, controlled wirelessly through Soundcraft's ViSi iPad app, handle the live sound mix. A dbx ZonePro 1260 12 x 6 digital zone processor handles the audio signal processing and distributed audio to additional speakers throughout the club.
Choosing the loudspeakers was a tough call. Riot Hospitality Group wanted loudspeakers with plenty of presence that could pump out a lot of SPL for dance music, but also had excellent clarity for live music vocals – and could accommodate the unusual layouts and acoustic challenges of the elevated stages. "Because the one stage is literally flying above the bar in the middle of the room there was no conventional way of hanging the system that made sense," Goldin pointed out. He decided to configure the loudspeakers as three stereo systems working together to create the desired coverage. "It turned out to be a perfect choice. The system is loud, and sounds clear and articulate from anywhere in the room." He also commented, "clubs like this can beat the snot out of the gear. They play the system really loud, all night long, and it has been completely reliable."
For Goldin, the HARMAN Professional gear performs "exactly as advertised," even though he designed the system based on a combination of available specs and recommendations from Connors and HP Marketing, as well as personal experience with the products. "Whiskey Row is packing the patrons in every night, and Riot Hospitality was so pleased we've immediately started working with them for a sister concept in two other locations."
HARMAN designs, manufactures, and markets a wide range of infotainment and audio solutions for the automotive, consumer, and professional markets. It is a recognized world leader across its customer segments with premium brands including AKG®, Harman Kardon®, Infinity®, JBL®, Lexicon®, and Mark Levinson® and leading-edge connectivity, safety and audio technologies. The Company is admired by audiophiles across multiple generations and supports leading professional entertainers and the venues where they perform. More than 25 million automobiles on the road today are equipped with HARMAN audio and infotainment systems. HARMAN has a workforce of 14,800 people across the Americas, Europe, and Asia and reported sales of $4.7 billion for the last twelve months ended December 31, 2013.