Huge 14-Cluster JBL by HARMAN VTX Line Array System Deployed In-the-Round for George Strait at T-Mobile Arena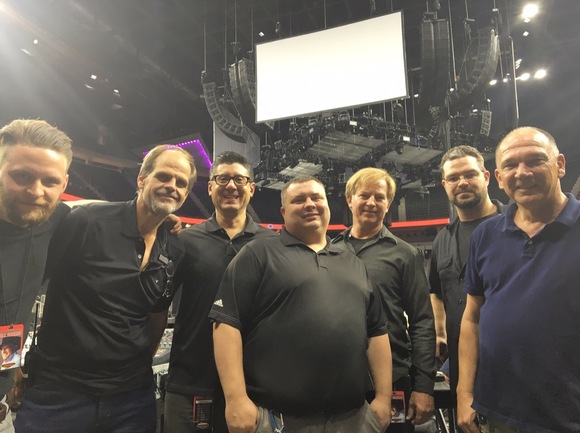 June 01, 2016
By combining the T-Mobile arena sound system with the traveling production system, engineers were able to create an amazing experience for an unforgettable concert
LAS VEGAS––In preparing for a series of iconic, in-the-round performances by George Strait at T-Mobile Arena, in-house engineers worked with production engineers from VER to design a massive, 14-cluster JBL by HARMAN VTX line array system to provide a remarkable level of coverage, fidelity and intelligibility.
A large, six-cluster JBL by HARMAN VTX line array system serves as the permanent centerpiece for delivering concert-quality sound performance at the new T-Mobile arena in Las Vegas. In order to provide the arena with the best sound reinforcement coverage and intelligibility possible, ATK Audiotek installed a HARMAN Professional Solutions system consisting of 72 JBL VTX V25-II elements and 36 JBL VTX S28 subwoofers, powered by 18 Crown V-Racks.
"The George Strait production crew of Paul Rogers and Stacey LaBarbera knew there was a nice JBL VTX system at T-Mobile already, and because we have the same system, they asked if we could marry our systems to create something very special," said Joe Casanova, National Audio Sales Manager, VER. "So that's exactly what we did. We came up with a massive, 14-cluster, double in-the-round VTX rig that worked astoundingly well. Paul Bauman (Associate Director, Global Tour Sound Business Development, HARMAN Professional Solutions) was very helpful in so many ways. He's a smart man, and it's always a pleasure to work with him on projects like this."
The JBL by HARMAN VTX V25-II is a full-size, 3-way, high-directivity line array element that includes a new 4th generation waveguide, which improves long-throw performance and wavefront control. Patented rigging, Crown I-Tech HD amplification with BSS® OmniDriveHD V5 Processing, and JBL HiQnet Performance Manager™ configuration and control software complete the system package.
"With today's connectivity, a system of this size can come together pretty quickly. We connected our system to the house system via Dante," said Casanova. "Basically, the house system's six clusters took care of the upper bowl area, and the eight additional arrays we brought in took care of the lower bowl and floor area. We had a total of 152 V25–II elements and 48 VTX S28 subs in use. It sounded amazing."
JBL VTX S28 dual 18-inch subwoofers provide extremely high peak-to peak excursion capabilities to deliver extended very low frequency performance. They can be suspended or ground-stacked and are cardioid-arrayable in either configuration for improved rear rejection. Compatible with VTX V25-ll suspension, S28 can be suspended at the top of V25-II arrays to extend the effective low frequency line length and provide improved vertical pattern control.
"The house guys were very accommodating—they let us have full access to the house system," said Casanova. "Our system engineers Kevin Valind and Eddie Harbin did a superb job of tuning the system. They were able to bring the house arrays in a little, turned some elements off, and really tailored the sound for the arena and to the ear of George Strait's FOH Engineer George Olsen. Everything was powered by Crown. Both our systems have the same amps, so we used Performance Manager 2.0 for efficient and precise control of this large-scale system."
Designed for optimum performance and setup simplicity, the Crown VRack Complete Amplification System provides a customized, turnkey amplification package. With Crown-engineered components already built in and no assembly required, it's an easy-to-configure, all-in-one amplifier solution that eliminates the time-consuming process of building amp racks.
"What really stood out is the accuracy of the VTX system," said Casanova. "The intelligibility was stellar, and you could understand every word. The vocals were out front, and you could hear every note of every instrument. Every seat in the house got the same crystal-clear experience. This was just the first of several George Strait events at T-Mobile Arena, and everything went exceedingly well. The audience really got their money's worth."
Pictured in the accompanying image, from left to right: Frank Faricy, George Olsen, Joe Casanova, Kevin Valind, Eddie Harbin, Micah Bellman and Paul Bauman.