Hoiana Suncity Launches Central Vietnam's Premier Beachfront Integrated Resort;Previews World-Class Entertainment & Gaming Center with state-of-the-art HARMAN Professional Audio Solutions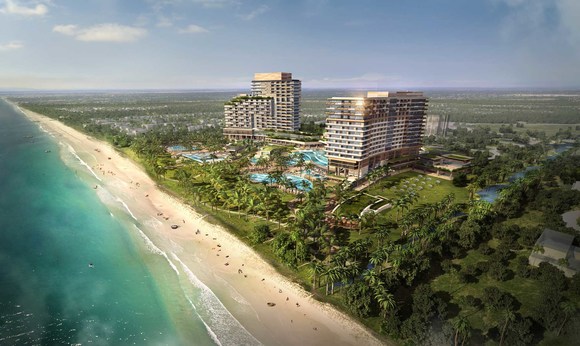 June 29, 2020
Central Vietnam —To elevate the guest experience at the Hoiana Suncity gaming and entertainment venue, VISCO Joint Stock and ihD Ltd. has deployed state-of-the-art HARMAN Professional audio-visual (AV) and background music (BGM) solutions.
Hoiana is the first beachfront integrated resort in Central Vietnam and had its preview soft opening on June 28, 2020. The impressive casino and resort consists of a cutting-edge entertainment and gaming facilities by Hoiana Suncity, an 18-hole Robert Trent Jones Jr.-designed Hoiana Shores Golf Club; and the first of four luxurious hotels managed by Rosewood Hotel Group – the Hoiana Hotel & Suites.
"The client wanted the latest hi-tech audio-visual, background music, lighting solutions and LED video walls to enliven its gaming and entertainment venues. One of the challenges that we faced was that we began the project with 50 percent of architectural drawings, while the rest of the design was put in place as the establishment was being built," said David Chua, General Director, VISCO Joint Stock. "We used HiQnet Audio Architect Software for programming and configuring all of HARMAN's audio systems. Integrating a multitude of the AV and lighting equipment made this project an exciting challenge."
The BGM system in the Casino and Food & Beverage areas consisted primarily of JBL Control Series speakers. Control 26CT, 24CT, 328CT, 322CT coaxial ceiling speakers, along with JBL Control 25AV 60 Watt indoor/outdoor commercial speakers, deliver premium output with wide coverage. To remove resonances and deliver lower bass response, the Control 300 Series speakers were fitted with JBL MTC-300BB8 Backcans and JBL MTC-300BB12 Backboxes. To ensure extended durability, JBL MTC-300RG8 and MTC-300SG12 scratch-resistant square grilles were added to the speakers.
Mot Hai Bar, the stage bar setup at Hoiana Suncity with complimentary entertainment shows for players consisted of JBL AM5215/64 2-Way, full-range loudspeakers, which are weather-resistent and feature a Progressive Transition Waveguide for excellent pattern control. The JBL ASB7118 ultra-long excursion hi-power single subwoofer offers powerful bass with low-distortion, while JBL AC18/95 passive compact speakers were integrated for their ease of mounting and high-fidelity output. Also included were JBL Control 26CT two-way coaxial ceiling loudspeakers, a JBL CSMA2120 mixing console, an AKG PZM11 boundary microphone, as well as Crown CDi 4|600 power amplifiers.
"The project at Hoiana Suncity was unique for two reasons. One is the sheer scale of the establishment, and the second being the unprecedented challenges posed by COVID-19. We would like to thank Hoiana Suncity for their faith in the best in class HARMAN Audio Solutions which will provide a world class experience to their customers," said Ramesh Jayaraman, VP & GM, HARMAN Professional Solutions, APAC. "We thank our partner VISCO Joint Stock for their expertise and dedication leading to the successful completion of the project in these testing times."