HARMAN Professional Solutions Realigns Pro Audio Distribution in Indonesia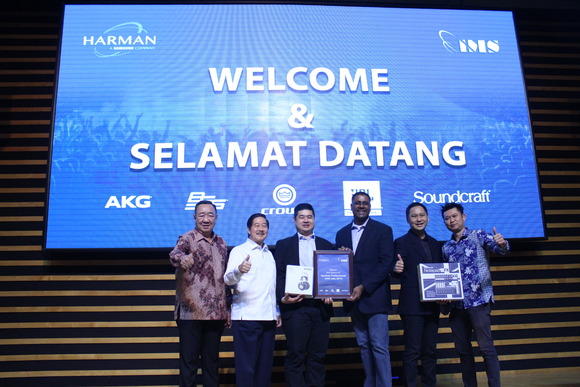 July 25, 2019
JAKARTA, Indonesia, July 24, 2019 /PRNewswire/ -- HARMAN Professional Solutions, the global leader in audio, video, lighting and control systems, including networked AV, today announced the appointment of IMS Indonesia as the official Indonesia distributor of AKG, BSS, Crown, dbx, Lexicon, JBL Professional and Soundcraft.
"Indonesia is a very important market for HARMAN Professional Solutions in the Asia Pacific region. In line with our focus on growth and strengthening our offering across brands, solutions and verticals to our customers in Retail, Install and Touring markets, we are happy to appoint IMS Indonesia as our audio distribution partner in Indonesia," said Ramesh Jayaraman, VP and GM, HARMAN Professional Solutions, APAC. "Indonesia has strong growth potential for professional audio solutions. The new distribution model leverages our brand strengths and IMS Indonesia's strong distribution and install capabilities in providing innovative technology solutions to our Indonesia customers."
IMS Indonesia is a market leader in distributing quality audio brands across Indonesia since 2000. With a nearly two-decade association operating JBL brand stores, retailing and distributing HARMAN's lifestyle brands, they will now expand the portfolio to include HARMAN Professional's Retail, Installation, Touring and Performing Arts audio product suite. All other HARMAN partnerships serving the Indonesia market for Broadcast, Cinema, AMX Video and Controls and Martin Lighting remains unchanged.
"We are known in the Indonesia market for our strong market coverage, retail footprint, technical knowledge and customer service. HARMAN Professional Audio Brands and Solutions are renowned for their world class quality and technological superiority," said James Eric Pribadi, Director - Sales, IMS Indonesia. "We understand our customers' need for world class installation solutions and support. With our hands-on experience and strong coverage in the Indonesia market, we are excited to bring HARMAN Professional Audio products to our customers and elevate their experiences."
Support, warranty and repair of HARMAN Professional products in Indonesia will transition to IMS Indonesia with immediate effect. Warranty terms and inclusions will not be affected.
For information on sales or support of HARMAN Professional Solutions products in Indonesia, contact HARMAN at HPro.APAC@harman.com or harmanpro@imsindo.co.id