HARMAN Professional Solutions Helps JK PARTY & KTV Deliver an Immersive Karaoke Experience In China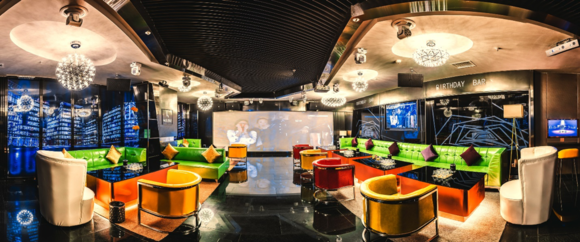 June 26, 2017
Popular entertainment club uses JBL Professional and Crown products to ensure each guest enjoys quality sound, in an intimate setting
XINGYI CITY, China—JK PARTY & KTV has become Xingyi City's hottest new entertainment club since it opened earlier this year, and the establishment attributes part of their success to the implementation of a complete HARMAN audio solution by Jiangsu Teana Electronic Technology Co., Ltd. Instead of relying on gimmicks and trends, JK PARTY & KTV attracts guests with refined taste by providing an understated-yet-sophisticated atmosphere, and discrete customer service. With over 10,000 square meters and 103 uniquely themed rooms, the venue provides guests an opportunity to enjoy an evening of karaoke with friends in a comfortable, private environment.
"At JK PARTY & KTV, our business philosophy is healthy, stylish, joyful and casual," said Mr. Zhao BiDong, General Manager, JK PARTY & KTV. "Our goal is to achieve that by providing customers with a place to enjoy a satisfying, sensory experience with close friends, in an immersive karaoke environment. Sound quality can make or break that experience. We trust HARMAN, an industry leader in commercial audio, to help us deliver an unforgettable atmosphere to our guests."
Designed specifically for karaoke market needs, JBL KP4000 Series speakers are specially tuned for reproducing the human voice. Integrated with a JBL KP Series subwoofer, the system provides each room with full bass and smooth treble, helping singers confidently find the rhythm and key of a song. JBL Ki80 Series speakers are also optimized for this application, providing guests with a natural and relaxed singing experience. Crown ComTech DriveCore Series amplifiers deliver reliable power to keep up with the intense demands of constant operation.
"Because of the large numbers of rooms and decoration styles, we had a limited timeframe to complete installation," said Zhao. "With opening day approaching quickly, it was important that all audio equipment worked properly when tested, because we had little time for troubleshooting. Our choice to use HARMAN products ensured a successful grand opening with amazing sound in every room, and allowed us to achieve our original goal—a first class karaoke experience."
Products Used:
JBL KP4000 Series Loudspeakers
JBL Ki80 Series Loudspeakers
JBL KP Series Subwoofers
Crown ComTech DriveCore Series Amplifiers