HARMAN Professional Solutions Deployment Scores Big with Premium Sound and Coverage at Anaheim's Honda Center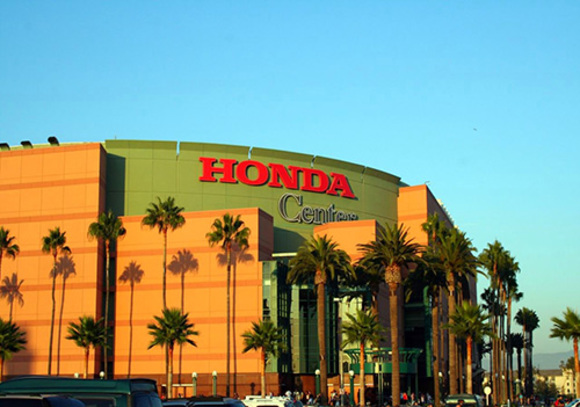 January 04, 2016
ANAHEIM, California – HARMAN Professional Solutions' components were recently selected for their ability to provide state-of-the-art sound and coverage to the Honda Center as part of its full-scale technology overhaul. The arena, home of the NHL's Anaheim Ducks, is now equipped with JBL VTX line arrays and Crown I-Tech HD amplifiers.
The Honda Center's massive technology upgrade includes a new HD scoreboard, HD video cameras and completely renovated video and audio rooms. To ensure that the right audio solution was chosen, the Honda Center's audio team worked with audio-visual (AV) systems integrator Diversified Systems, which drew on its decades of expertise consulting, designing, building and integrating full-scale audio solutions.
Diversified Systems began the process by evaluating the loudspeaker options on the market. "We did a listening test with line arrays from three brands," said Pete O'Neill, Director of AV Engineering for the western region at Diversified Systems. "We had them process their EQ curve flat, and then played various speech and musical content. Next, we evaluated the performances of each speaker based on a variety of technical criteria. The JBL VTX V20 line array loudspeakers came out as the unanimous winner."
The complete audio solution for the Honda Center includes 72 JBL VTX V20 loudspeakers and 30 Crown I-Tech 4x3500HD amplifiers. JBL loudspeakers are set up in six clusters, each configured with 12 JBL VTX V20 line array cabinets with four subwoofers behind them. HiQnet Audio Architect™ software was chosen for sound system configuration, and the JBL loudspeakers and Crown amplifiers are easily configured, monitored and controlled using JBL HiQnet Performance Manager™, a software application that facilitates a more streamlined workflow.
In choosing a new audio system, Honda Center sound technician Nate Chivers wanted a significant upgrade in the evenness of sound coverage, so every seat would feel like it was right on the ice.
"The coverage we have now with HARMAN Professional Solutions is incredible," Chivers said. "The definition and clarity of the sound is superb, from the front row all the way up to the rafters. It's a huge change from what we had before."
The HARMAN Professional Solutions installation also led to a substantial improvement in microphone directivity.
"We were having persistent feedback issues on the referees' lavalier microphones for a long time," Chivers said. "Our HARMAN Professional Solutions system has drastically improved the directivity of the microphones. I get so much more gain on the microphones before they start feeding back, because the sound is directed mainly toward the stands and not reflected in any other direction."
Chivers is not alone in his praise for the HARMAN Professional Solutions system.
"The audio quality in the arena is now at a very high level," Chivers said. "I routinely have audio engineers from the broadcast trucks tell me how amazing the system sounds. Our public address (PA) announcer sounds incredible coming through the JBL loudspeakers. We had high expectations for this new audio system, and HARMAN Professional Solutions not only met them, but exceeded them. The entire solution has been flawless."