HARMAN Professional's JBL, and Crown Deliver Mega-Scale Dolby Atmos™ Multichannel Sound In South Korea's Megabox Cinema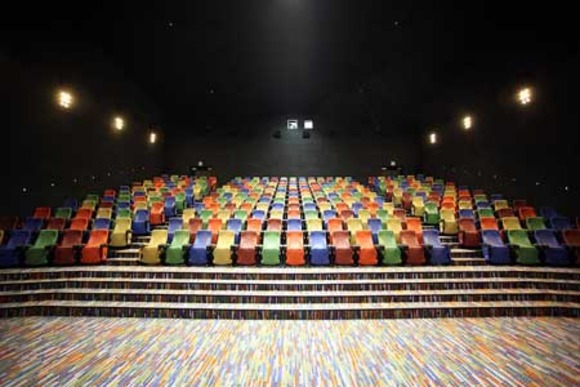 January 21, 2014
ILSAN, South Korea — Megabox is a chain of 58 South Korean movie theaters known for its commitment to leading-edge cinema technology. Moviegoers who attend the Ilsan, Baeksuk Megabox Theater will now be treated to the newest advancement in movie theater sound, thanks to the theater's recently-installed Dolby Atmos surround sound system, HARMAN's JBL loudspeakers and Crown amplifiers.

Dolby Atmos takes cinema surround sound to an entirely new level of excitement by employing overhead speakers as well as traditional surround speakers to create an astonishingly immersive sonic environment. Sound can originate from literally anywhere – side-to-side, front-to-back and overhead – enabling the directors and sound designers to create a true three-dimensional listening experience.

The system is installed in the theater's 275-seat M Hall. Designed for critical film sound reproduction applications in medium to large cinemas, five JBL 5672 three-way loudspeakers and five 4342A loudspeakers are deployed as the main left, center and right-channel speakers. Eight JBL 4642A dual-18-inch subwoofers and two PRX618S-XLF extended lowfrequency 18-inch subs deliver powerful and authoritative bass, and a total of 48 JBL 8350 Cinema Surround Speakers are arranged throughout the theater.

The loudspeakers are powered by an impressive complement of 16 Crown DSi 4000 and 29 DSi 2000 amplifiers. Crown DSi Series amps are specifically designed for cinema applications with features including onboard DSP, EQ, delay, output limiting, presets for industry-standard JBL loudspeaker systems and much more.

"In order for Dolby Atmos to be heard the way its designers intended, every aspect of the system has to be perfectly optimized," said Hueng-Sik Jung, manager of Projection Technique Team of Megabox. "The coverage pattern of the loudspeakers has to be precisely directed and smooth throughout the theater and the amplifiers have to be capable of delivering clean, powerful sound at high volume levels. The JBL loudspeakers and Crown amps in the Megabox cinema are ideally suited to these requirements and the sound in our theater is so enveloping and lifelike that it literally almost seems unbelievable at first listen."

Dolby Atmos employs up to 64 speakers and the proprietary Dolby Atmos Cinema Processor to heighten the realism and impact of movie theater sound. The Dolby Atmos specification requires 105dB peak SPL at the reference point in the theater along with numerous additional stringent technical requirements.


HARMAN (www.harman.com) designs, manufactures, and markets a wide range of infotainment and audio solutions for the automotive, consumer, and professional markets. It is a recognized world leader across its customer segments with premium brands including AKG®, Harman Kardon®, Infinity®, JBL®, Lexicon®, and Mark Levinson® and leading-edge connectivity, safety and audio technologies. The company is admired by audiophiles across multiple generations and supports leading professional entertainers and the venues where they perform. More than 25 million automobiles on the road today are equipped with HARMAN audio and infotainment systems. HARMAN has a workforce of about 14,000 people across the Americas, Europe, and Asia and reported sales of $4.3 billion for the fiscal year ended June 30, 2013.