G&B Productions Satisfies Producers, Engineers and Clients With Room-Shaking Sound from JBL Professional Monitors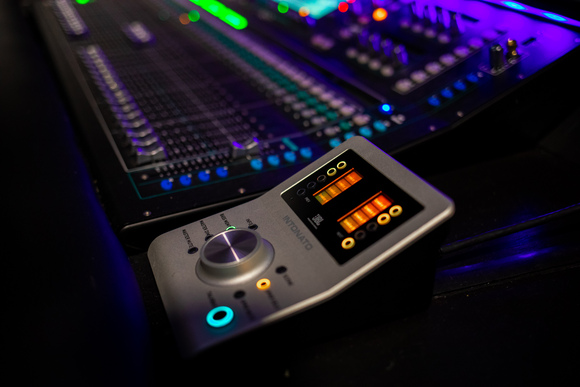 April 15, 2022
HOUSTON, Texas—To offer clear, transparent audio for music production and mixing, as well as loud and bass-heavy sound to satisfy clients, JEM Productions Texas upgraded G&B Productions' newly renovated studio with three sets of JBL Professional loudspeakers and a JBL Intonato 24 monitor management and tuning system.
G&B Productions is co-owned by producers G.Luck and BDon, who have worked with a variety of high-profile artists as well as local Houston musicians. With their business growing, the production duo decided to upgrade their studio with improved acoustical design, custom lighting and—most importantly—enhanced sound. According to Gavin Luckett (G.Luck), the goal was threefold: to upgrade the studio's main monitors for more transparent sound, to satisfy artists with loud and bass-heavy playback, and to create a flexible monitor management system to switch between sources and speakers.
"We were looking for a speaker system that would impress our clients," said Gavin Luckett, Producer and Co-Owner, G&B Productions. "Half the battle is bringing clients into the studio for playback, so that was the main thing we wanted to improve. Also, the quality coming through our speakers when it's time to mix was just 'okay,' and we wanted to go beyond standard. The way we did our new studio, we wanted the sound to be incredible. So that's the reason we wanted to upgrade everything."
To achieve extremely detailed and transparent sound for accurate mixing, JEM Productions Texas selected JBL 708P master reference monitors as the studio's main mixing speakers. Featuring next-generation JBL 2409H high-frequency compression drivers and 728G Differential Drive low-frequency transducers, the 708P delivers smooth response from 35–36,000 Hz with excellent dynamic range. Patent-pending JBL Image Control Waveguides ensure a wide "sweet spot" for accurate sound on- or off-axis.
"As an engineer, you want a clear sound in the studio that doesn't fool you, but when you get to the car it should sound crazy," said Luckett. "The speakers that we have now are extremely clear. You can hear everything; you can hear what you need to fix. Our previous speakers didn't give me that. They gave me a lot of color, but they didn't give me true sound."
To impress clients with extra-loud playback and enhanced bass output, the JEM team outfitted the studio with JBL SRX815P large-format passive loudspeakers, which are soffit-mounted in the walls behind the main monitors. Designed as a PA speaker, the SRX815P fills the room with up to 130 decibels of full-range sound thanks to 15-inch Differential Drive woofers and 3-inch high-frequency compression drivers with neodymium voice coils. A 90-by-50-degree dispersion pattern ensures even coverage throughout the entire room.
For additional coverage and flexibility, JEM added a pair of JBL 308P monitor speakers aimed at an island toward the rear of the room which is used by producers working on laptops during sessions. Featuring efficient Class D amplification, 8-inch woofers, soft dome tweeters and patented JBL Image Control Waveguides, the 308Ps provide mix-worthy sound quality and broad coverage at impressive volumes.
To complete the expansive speaker system with the full, powerful low-end that modern hip-hop and related genres demand, JEM installed JBL SUB18 and LSR310S subwoofers. Powered by a 2500-watt Crown MA5000i amplifier, the SUB18 complements the main monitors and PA speakers with up to 137dB SPL from its massive JBL 2269H 18-inch Differential Drive transducer. The 10-inch, powered LSR310S provides additional low-frequency extension for the 308P monitors in the rear of the room.
"Doing a lot of music in the south, we go to the lowest notes on those 808s," explains Luckett. "You can definitely hear it on the 708Ps alone, but I was really impressed when we added the SUB18. You could feel it. I was sitting at the front of the studio the other day and I could feel a beat that I had made playing in the main room. I knew which beat they were playing just by the bass, and that impressed me a lot."
To give Luckett and his collaborators the power to easily control the studio's multiple sets of speakers and subwoofers, JEM installed a JBL Intonato 24 monitor management and tuning system with a desktop controller. In addition to automating the speaker tuning and calibration process for accurate sound, the Intonato system allows Luckett to independently switch each set of speakers on or off, add or remove subwoofers, control volume and more. According to Luckett, this makes it easy to adapt to different situations in the studio, from critical listening to high-volume playback for clients.
"When it got hooked up, I was like, 'Yes, this is what we've been needing,'" said Luckett. "I can pick the vibe I want going on at any given time and just walk over and hit two buttons while my engineers are working. Sometimes we'll have the little woofer, big woofer, big speakers, little speakers and speakers in the back going at the same time. Even when you play all that together at the end of the session, everything sounds good. Our playback is incredible now."
Eric Cummings, Managing Member of JEM Productions and the designer of G&B's new audio system, expressed gratitude for his company's relationship with HARMAN and the solutions that made this project a success.
"Working with HARMAN, I always know I'll be able to find the perfect solutions for my clients," said Cummings. "The latest JBL monitors, Crown amplifiers and the Intonato system work together flawlessly as a complete ecosystem, which made it easy to set the studio up with a sound system that surpassed their expectations. HARMAN has always been a reliable partner for us, and we look forward to the next opportunity to work with them."