Daktronics Redesigns Audio System at University of Wisconsin's Camp Randall Stadium with HARMAN's JBL VLA Line Arrays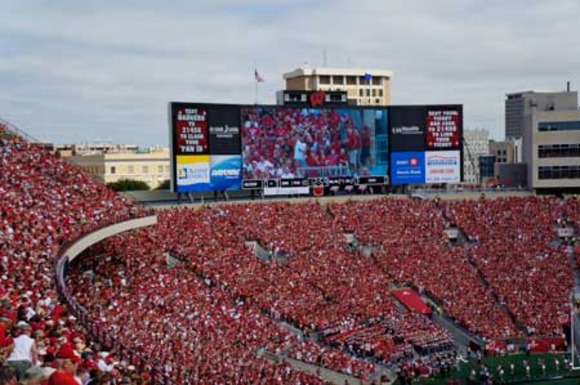 December 17, 2013
---
MADISON, Wisconsin – In time for the football season, Daktronics recently redesigned the video board and audio system at the University of Wisconsin's famed Camp Randall Stadium. Home to the Wisconsin Badgers football team, the stadium seats 80,321 people and is the 41st largest stadium in the world. To match the intensity of some of college football's most dedicated fans, Daktronics selected HARMAN's JBL VLA Series line array loudspeakers for the new audio system.

"We modeled different designs from many different manufacturers before deciding to use the VLA loudspeakers. No other system could deliver a confident outcome besides the VLA design," according to David Sturzenbecher of Daktronics.

The new system consists of 18 JBL VLA301H loudspeakers, 14 JBL VLA 601H loudspeakers, three JBL PD743 loudspeakers, two JBL PD5212 loudspeakers, 12 AWC82 loudspeakers and 21 AW295 loudspeakers. Four line arrays cover west, south and east seating areas, with many fill speakers covering the north seats and upper seat fills.

"The design of the stadium presented many challenges including a very deep under-balcony area that was shadowed from the main display. This area required a completely separate submix in order to blend properly with the main system," Sturzenbecher added.

With system design/commissioning assistance from Shay McElwain of the University of Wisconsin Athletics department, Draktonics successfully completed this massive overhaul of the stadium's system.

"After some system optimization over the first two events, the system is currently operating extremely well and has received many positive reviews," Sturzenbecher concluded.


HARMAN (www.harman.com) designs, manufactures, and markets a wide range of infotainment and audio solutions for the automotive, consumer, and professional markets. It is a recognized world leader across its customer segments with premium brands including AKG®, Harman Kardon®, Infinity®, JBL®, Lexicon®, and Mark Levinson® and leading-edge connectivity, safety and audio technologies. The company is admired by audiophiles across multiple generations and supports leading professional entertainers and the venues where they perform. More than 25 million automobiles on the road today are equipped with HARMAN audio and infotainment systems. HARMAN has a workforce of about 14,000 people across the Americas, Europe, and Asia and reported sales of $4.3 billion for the fiscal year ended June 30, 2013.