Clearwing Productions and HARMAN Provide Superior Audio and Lighting at Summerfest 2019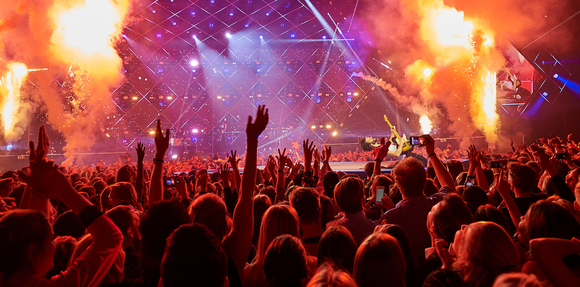 June 26, 2019
MILWAUKEE, Wisconsin - Clearwing Productions, a nationally renowned full-service production company with over 40 years of tour experience, and over 30 years supporting Summerfest, once again selected HARMAN Professional Solutions and Crown, JBL and Martin audio and lighting products to kick up the excitement at Summerfest 2019.
The deployment at Summerfest comes months after Clearwing made a massive upgrade to its audio inventory with a multi-million-dollar purchase of JBL VTX A-Series line arrays.
More than 200 JBL Professional loudspeakers, fills and subwoofers are featured, including the new JBL VTX A8 and A12 line array loudspeakers. The Martin MAC Allure made its debut this year, along with support from the Martin Atomic, VDO, and RUSH lines.
"We are really enjoying the flexibility that the new JBL A8s offer for our various stage configurations as well as the versatility that we've come to enjoy from the A12s. The B18s and G28s ensure our low end is also more than capably taken care of. No matter which stage, venue or configuration we are using them for, JBL and Crown products continue to ensure never worry reliability and that all of our artists will sound their very best, night after night," said Bryan Brunclik, Clearwing Productions Milwaukee General Manager. "Our lighting needs are constantly evolving from set to set, artist to artist, and venue to venue but knowing we have the Martin MAC Allure, Atomic and VDO fixtures on board again this year, we know every set will not just be a performance but a complete lighting show from start to finish."
On the Harley-Davidson Roadhouse Stage this year, Clearwing deployed a complete JBL audio system featuring 20 VTX A12 line array loudspeakers accompanied by 24 JBL B18 18" subwoofers and 12 JBL G28 subwoofers. The new JBL VTX A8, announced in June of last year, were used as fills. The new A8 are a more compact line array in the VTX line with unmatched performance in its size class. Three VRack 4x3500HD and four VRack 12000HD Crown amps powered the stage. The lighting rig featured Martin MAC Encore fixtures.
18 VTX A12 line array loudspeakers, accompanied by 20 JBL 18 subwoofers turned the Uline Warehouse Stage into an audio tour de force, Clearwing also selected six G28 double subwoofers, four VTX A8's used as front fills, and two JBL F12's used as VIP fills. Four VRack 4x3500HD and three VRack 12000HD power amps from Crown powered the rig. The Martin Quantum Profile anchored the Uline Warehouse Stage lighting rig.
Clearwing ensured that the BMO Harris Pavilion Stage was nicely equipped to deliver the goods day and night system, featuring 22 VTX A12 line array loudspeakers, 18 VTX B18 subwoofers, 12 G28 subwoofers, and 10 VTX A8's used as side and front fills. Five VRack 4x3500HD and four VRack 12000HD Crown amps powered the room. Martin Quantum Profiles were chosen to light up the BMO Harris Pavilion Stage.
The JoJo's Martini Lounge Stage, had to be configured just right and for this venue, Clearwing deployed eight VTX V8 line array loudspeakers and six VTX S18 subwoofers. Two VRack 4x3500HD amps ensured everything in the room could be heard, just as the artist played it.
Additional Details
To learn more about Clearwing Productions, visit clearwing.com. To learn more about the HARMAN products being used to support Summerfest visit:
Crown VRack 4x3500HD and VRack 12000HD Amplifiers
JBL VTX A8 and A12 Line Array Loudspeakers
JBL VTX B18 and G28 Subwoofers
Martin MAC Allure, MAC Encore, Atomic, VDO, Quantum, RUSH Lighting Fixtures