Cape Audio College Adds HARMAN's JBL Professional and Crown to its Live Sound Curriculum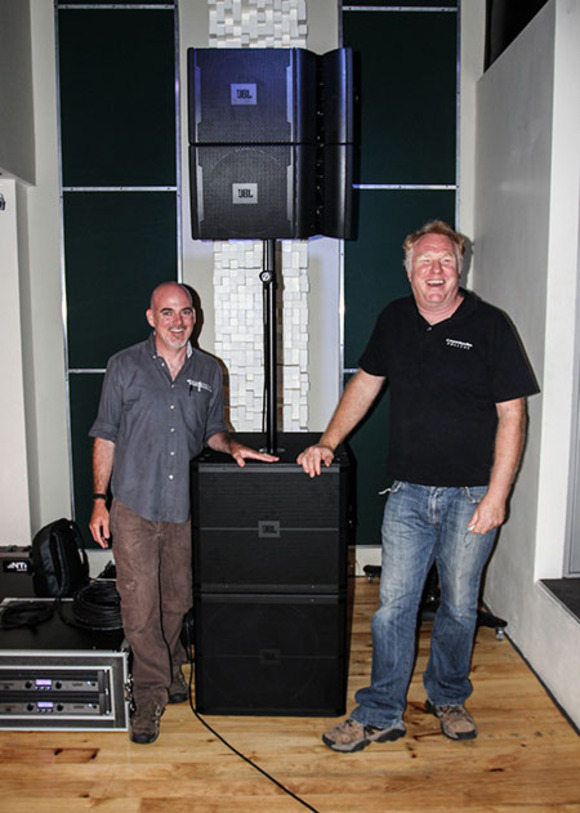 February 18, 2015
February 12, 2015 – For Immediate Release 
Cape Audio College Adds HARMAN's JBL Professional and Crown to its Live Sound Curriculum
CAPE TOWN, South Africa — Cape Town, South Africa's Cape Audio College has been training newly minted sound engineers for more than 18 years. Boasting 52 fully equipped multitrack recording studios, mixdown and editing suites and live sound work areas, the school takes a practical approach to audio training and has offers a diploma in sound technology and production among its courses of study. Recently Cape Audio College acquired a complete HARMAN JBL VRX loudspeaker system and Crown I-Tech HD Series amplifiers that will be used when training student sound engineers.
Rae de Jager, head of Cape Audio College said, "We were looking for a scalable sound system for our Live Sound Module practical module and curriculum that could offer a lot of flexibility, deliver high power output and above all allow students to hear what today's top-quality professional loudspeakers can deliver and learn how to set them up and get the most out of them. The JBL VRX900 Series does just that, whether used as a single-point system or expanding it to a larger format. The VRX900 is also budget-friendly, which was an extra benefit."
The JBL VRX900 Series is designed for smaller venues than the full-size VTX and VERTEC® line arrays, while built to the same standards and using the same concert-proven drivers. The school purchased six JBL VRX932LA 12-inch two-way line array systems, six VRX918S 18-inch high-power suspendable subwoofers and two VRXAF array frames, as well as four PRX715 15-inch 2-way full range speakers that are used for stage monitoring. The speakers are driven by four Crown I-Tech HD Series I-T9000 power amps running the V5 preset tunings for JBL line arrays.
"We are excited that the students will receive hands-on audio training with a professional product of the caliber of the JBL VRX900 Series," said Dean Coull of South Africa HARMAN Professional distributors Wild & Marr. "The VRX Series is an extremely versatile line array lineup that offers high power handling and stunning audio quality with exceptional clarity, all in an affordable package."
"The Crown amplifiers provide the students with the opportunity to learn how today's advanced-technology amps operate," Coull added. "In live sound today we're a far cry from the days when you'd just hook an amp and turn it on. Amps are now an integral part of system tuning and the Crown I-Tech HD Series will provide students with experience working with crossover points, filters, EQ, time delay, limiting and other parameters and show them how these factors directly translate to what is heard in a live sound environment."
In addition to its use at Cape Town, the rig will be offered as an additional system for smaller stages at festival shows that take place around the Western Cape region of South Africa. The college's students will run the sound system and manage its use during these events.
 
HARMAN (www.harman.com) designs, manufactures and markets premier audio, visual, infotainment and enterprise automation solutions for the automotive, consumer and professional markets. With leading brands including AKG®, Harman Kardon®, Infinity®, JBL®, Lexicon®, Mark Levinson ® and Revel®, the Company is admired by audiophiles, musicians and the entertainment venues where they perform. More than 25 million automobiles on the road today are equipped with HARMAN audio and infotainment systems. HARMAN has a workforce of approximately 17,600 people across the Americas, Europe, and Asia and reported sales of $5.9 billion during the last 12 months ended December 31, 2014.