Billboard Live Elevates New Yokohama Location with JBL Professional and Martin Professional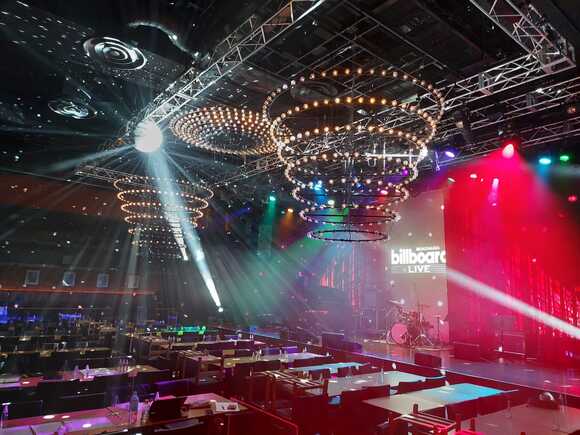 May 15, 2023
YOKOHAMA, Japan—To provide Billboard Live's latest venue in Yokohama with a world-class live setup suitable for a wide range of performances, HIBINO and SC Alliance collaborated with HARMAN Professional Solutions to select and implement a range of JBL Professional audio and Martin professional lighting solutions.
In addition to venues in Tokyo and Osaka, Billboard Live recently launched a third location in the up-and-coming Kitanaka area of Yokohama. The venue boasts a gigantic floorspace of approximately 1,000 square meters and a 300-seat capacity. Along with hosting internationally renowned performers and local artists, the venue also provides an unrivaled culinary experience thanks to a carefully curated menu by Japan's finest chefs. To elevate the overall guest experience with state-of-the-art live sound as well as immersive and impactful lighting, the HIBINO and SC Alliance installation team deployed JBL VTX and VRX Series speakers and Martin ERA Series lights.
For the audio component, the team installed the JBL VTX A8 and B18 high-performance speakers. Equipped with proprietary JBL woofers, custom-designed high-frequency transducers and advanced waveguide technology, the VTX A8 is a compact-yet-powerful line array capable of high, distortion-free output and consistently wide horizontal coverage of up to 110 degrees. When used in conjunction with the VTX B18 subwoofer, which applies the same features and technology as the A8 for reinforced low end, the combined system produces improved linearity, wider dynamic range and an impactful sound that reaches far-away audiences without overwhelming those close to the stage.
In addition to the VTX speakers, the rig also includes JBL VRX928LA two-way line array loudspeakers for the center and balcony fills. Featuring a Constant Curvature Array design and a Dual Angle pole socket, the JBL VRX928LA offers precise aiming and reliable coverage so that every audience member can experience optimal live sound. Finally, JBL VTX M20 monitor speakers offer the onstage performers the same high-quality sound and technology as the audience-facing rig.
"We needed a system that could simultaneously deliver a broad range of genres including jazz, pop, rock and hip hop," said Kosuke Takahashi, Touring Division at Tokyo Sanko. "We are impressed with how HARMAN Professional Solutions was able to deliver on that request. We have received great compliments from top artists who performed at our venue."
Along with sound, lighting effects are also critical for any live performance venue that wants to provide guests with a memorable experience. With this point in mind, the installation team selected Martin ERA 600 Performance fixtures and MAC Aura XB wash lights as the venue's main lighting system. The Martin ERA 600 sports a highly efficient 550W white LED engine that produces bright and sharp image projection up to 6,500K, while MAC Aura XB specializes in color blends thanks to its superior color mixing system and optimized lens design. The resulting lighting rig ensures saturated washes, vibrant effects, striking beams and more.
"We chose Martin lighting fixtures as it is a renowned brand with a comprehensive range of effects, versatile LED profile and limitless design possibilities," said Keita O-Kado, Booking Manager, Planning and Production Group, Billboard Division at Hashin Contents Link Corporation.
"Billboard Live is a premium live entertainment venue, and we are honored to bring its performances to life with stellar sound and lighting via our suite of world-class products" said Amar Subash, VP & GM, HARMAN Professional Solutions of APAC. "We would like to thank Hibino, SC Alliance and Rewire for entrusting us and we look forward to future collaborations."
A video about the JBL Professional loudspeaker and Martin lighting fixture integration can be viewed at https://youtu.be/_j_LYm8HE_0.