ATK Audiotek Provides Championship Sound at Super Bowl XLIX with HARMAN's JBL VERTEC® Line Array Loudspeakers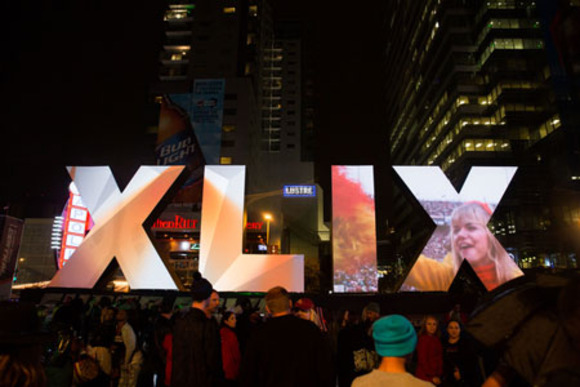 February 18, 2015
GLENDALE, Arizona – In one of the most exciting Super Bowls in history, ATK Audiotek once again provided sound reinforcement for Super Bowl XLIX, which took place at the University of Phoenix Stadium in Glendale, Arizona. ATK Audiotek deployed its custom-designed, cart-based audio system, equipped with HARMAN's JBL VERTEC® line array loudspeakers, for the game's halftime show and pregame performances of "The Star-Spangled Banner" and "America the Beautiful."
Super Bowl XLIX was broadcast by NBC and was seen by an average of 114.4 million viewers, making it the most-watched program in American television history. The halftime show featured pop star Katy Perry, while Idina Menzel performed "The Star-Spangled Banner" and John Legend performed "America the Beautiful."
For the event, ATK Audiotek provided 18 carts, each loaded with four VERTEC large-format line array loudspeakers and two VERTEC dual 18" subwoofers.
"We rely on JBL for the Super Bowl because it is a tried-and-true solution," noted Kirk Powell, Engineer in Charge for ATK Audiotek. "VERTEC provides very predictable results even when we are in challenging environments and [FOH engineer] Pat Baltzell is comfortable with the system."
Because of the inclement weather in Glendale in the days leading up to the Super Bowl, the roof on the University of Phoenix Stadium remained closed, which made rehearsals a challenge since the roof on game day was open, leading to different acoustical conditions. At the end of the day, the reliability of the VERTEC loudspeakers enabled ATK Audiotek to provide an unforgettable experience for the crowd of more than 70,000.
"For a decade and a half, ATK has relied on JBL VERTEC to power the Super Bowl, and once again the system performed as expected and sounded great," Powell concluded.
For more information on ATK Audiotek, please visit www.atkaudiotek.com
Photo Credit: Super Bowl 50 Host Committee
HARMAN (www.harman.com) designs, manufactures and markets premier audio, visual, infotainment and enterprise automation solutions for the automotive, consumer and professional markets. With leading brands including AKG®, Harman Kardon®, Infinity®, JBL®, Lexicon® , Mark Levinson ® and Revel®, the Company is admired by audiophiles, musicians and the entertainment venues where they perform. More than 25 million automobiles on the road today are equipped with HARMAN audio and infotainment systems. HARMAN has a workforce of approximately 17,600 people across the Americas, Europe, and Asia and reported sales of $5.9 billion during the last 12 months ended December 31, 2014.
###