Agility AVL Takes Audio Production to the Next Level with JBL Professional VTX A12 Loudspeakers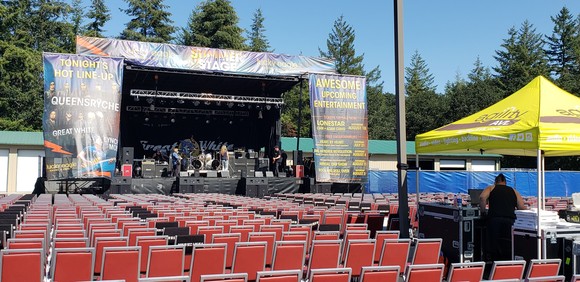 September 13, 2018
SEATTLE—Agility AVL recently upgraded their production inventory with new JBL by HARMAN VTX A12 loudspeakers to deliver stunning sound quality for a wide range of high-profile concerts, festivals and events.
Agility AVL a leading audio, video and lighting solutions partner for event production, backline rentals, commercial installations and surveillance in the Pacific Northwest. In order to more easily service world-class venues and A-list national acts, Agility AVL were searching for a compact, rider-friendly line array system that could deliver exceptional sound quality, reduce setup time, and streamline transportation requirements. After extensive research, Agility AVL upgraded their inventory with 24 JBL VTX A12 line array loudspeakers and 16 S28 subwoofers.
"We were recently working with one of the biggest artists in the world, and they have the VTX A12 listed as the top request on their rider," said Kevin Hill, VP of Sales and Marketing, Agility AVL. "It was nice to know when we got the rider that we had exactly what they wanted—that's very reassuring for a production company."
Since acquiring the VTX A12 system in April 2018, Agility AVL have deployed the system for performances by world-class artists such as Little Big Town, 3rd Eye Blind, Jay Leno, Buddy Guy, Pitbull, Queensryche, Great White and Lynch Mob, as well as the I Love The 90s tour featuring Vanilla Ice, Salt N Pepa, Spinderella, All 4 One, Color Me Badd, Coolio, Tone Loc, Rob Base and Young MC. Agility will also be deploying the A12 system for upcoming performances by Amy Schumer, Paul Anka, Lonestar, Cam, Dwight Yokum and Adam Craig.
"One of the best things about the A12s is that they sounds great no matter what genre you're working with," said Hill. "Even with hard rock or heavy metal acts like Queensryche, Great White or Lynch Mob, the A12s can pump out a ton of SPL without sounding shrill or harsh."
VTX Series loudspeakers pack a powerful punch into a surprisingly small package, allowing production companies to put on bigger productions with less equipment. The innovative rigging mechanism and redesigned suspension system enables two technicians to fly a full VTX A12 line array system in minutes. Up to four VTX A12 loudspeakers can be stacked on the VTX A12 VT | Vertical Transporter cart for quick and easy transportation. The rigging system and transporter cart were big selling points for Agility, enabling the team to streamline setup and loading time, and reduce transportation costs.
"When we saw how easily you could pack the A12 boxes on a truck and how quickly you can fly them with the rigging mechanism, we instantly fell in love," said Hill. "Plus they weigh significantly less than some of the competitor's boxes, which creates fuel and time savings."