HARMAN Professional Solutions Provide Unforgettable Live Experiences At Whoa! Studios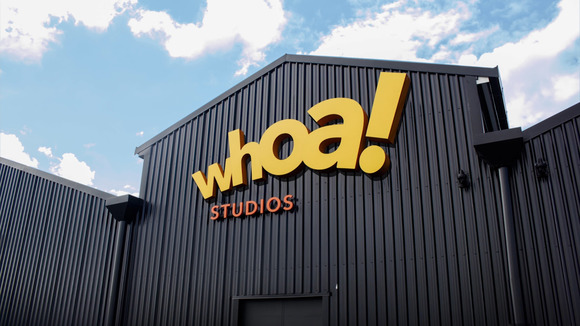 2017年09月26日(火)
Full range of HARMAN Professional Solutions help create immersive experience
AUCKLAND, NEW ZEALAND - Nestled in Henderson Valley in Western Auckland New Zealand, Whoa! Studios is a state-of-the-art film studio and theatre specialising in live action, puppetry and miniatures. Its flagship offering is an original, world-class, live show based on the characters and sets of Custard's World – adapted for stage from a script by Bob Baker, BAFTA award winning screenwriter of Wallace & Gromit.
Whoa!'s owner, David Sutherland, wanted to create an exciting family destination in Auckland with unforgettable live experiences. He says, "It started out as an idea to do something fun for children and for families, to do something that was different to what they had engaged with before. We wanted to try and do something that was magical."
David's vision has resulted in a world-class facility with a children's adventure playground, a modern family eatery, a hi-tech studio and theatre facilities. In order to realise this vision and create a truly immersive experience alongside the mix of puppets, digital effects and live action from within the main stage movie set, leading world class AV technologies were needed.
Worldclass meant that one of New Zealand's top integration companies, ITAV was called upon to knit together this immersive experience that would create lasting memories. Their brief was clear; sound quality, flexibility and ease of use.
Consultant and ITAV integrator Paul Ivory had no doubts when it came to selecting the team that he would partner on this project. Paul declares, "I called on the best of the best in all different aspects of this project."
JANDS, leading specialists in sound system design and the HARMAN Professional Solutions equipment supplier in New Zealand, were selected because of their domain expertise, audio and product knowledge, far-reaching support and emphasis on long-term relationship.
Paul Edlin, Project Director at JANDS, designed the fully integrated networked audio system for the theatre and restaurant. BSS Soundweb and Soundcraft Vi3000 are an integral part of the audio distribution and essentially, the heart of the theatre system.
The primary objective was to keep as much of the audio signal in the digital domain as possible. Audio was passed in and out of the Vi3000 via Dante, into the BSS BLU-806 signal processor before reaching the Crown DCi Amplifiers that powered the JBL CBT 70 array speakers in the theatre, and various JBL Control Series speakers for the eight zones such as the green room and back of stage.
Audio outputs for the live film studio and theatre were configured in 7.1 and 5.1 respectively. This was not only for a surround sound effect, but for localised sources as puppets came in from different locations around the room.
For the theatre, Paul Ivory selected the JBL CBT 70's. "They are great for speech and music" he says, "The array of the speakers is perfect for having clear sound for the front and back end of the room; they were always going to be my first choice, there is nothing else that comes close."
AKG's new MicroLite HC81 headworn microphones were selected due to being comfortable and lightweight to wear for the actors, while the wireless microphone technology used has a track record of solid reliability.
Through clever configuration and use of the Soundcraft VISI app, the Soundcraft Vi3000 mixing console provided the central control point for all performance areas.
Paul Edlin from JANDS explains the use of the VISI integration, "Vi3000 controls all the actors and playback audio within the main theatre and on the second layer it controls audio in the second theatre." This resulted in a cost saving of an additional mixing surface. Paul continues, "So the main theatre can be running a show and the second theatre can simultaneously run another show with audio controlled via the VISI iPad app."
The approach to the AV design for the restaurant and mezzanine areas is equally as ingenious, with exceptional sound quality produced by the unobtrusive JBL Pendant speakers.
"You can walk throughout the café, into the parent's area, toilets, the shop into the entrance way and the sound is all even, it is not overbearing in any area" states ITAV's Paul Ivory.
All AV technologies such as switching on projectors and lowering screens, operating lights and adjusting volume are controlled on a touch panel system via an automated process. Third party systems control is made simple and easy to execute with Audio Architect and AMX seamlessly integrated together.
Through effective communication, simplistic AV and sound system design and leading world-class products from Harman Professional, the teams from ITAV and JANDS were able to put together a solution that will provide simplistic user operation for staff, and unforgettable live experiences for families.
David Sutherland concludes, "We wanted to exceed expectations. I didn't think it would be as good as this result - and that makes it all worthwhile."
"Whoa! Studios showcases the best of HARMAN Professional Solutions product suites. A complete and reliable solution that is able to meet the different requirements in the different spaces to achieve the objective of our esteemed customers. We are delighted that our solutions are helping elevate the experiences of Whoa! guests," said Ramesh Jayaraman, VP & GM HARMAN Professional Solutions, APAC. "We also commend JANDS in New Zealand for their professionalism and impeccable design that has helped the client achieve their objectives."
Products Used
BSS Soundweb
BSS BLU-806
BLU-100
Soundcraft Vi3000
Soundcraft VISI App
Crown DCi Amplifiers
DCI8300N-B DCI DRIVECORE NETWORK 8CH 300W/CH
JBL CBT 70 Array speakers
CONTROL25-1
CONTROL28-1
CONTROL67PT FULL-RANGE PENDANT SPKR EXTND BASS BLK
CONTROL47LP 2-WAY 150W LOW PROFILE CEILING SPEAKER
ASB6112 ULTRA COMPACT HIGH POWER 12IN SUBWOOFER
AKG WMS4500 Wireless Microphones Systems
AKG HC81MD-BEIGE MICROLITE
IVM4500 IN-EAR WIRELESS SYSTEM
K171-MKII HEADPHONES
CSPM1 CSM 1 ZONE PAGING STATION