YeonCheon Sureul Art Hall Enhances Live Performances With New HARMAN Professional Solutions Audio System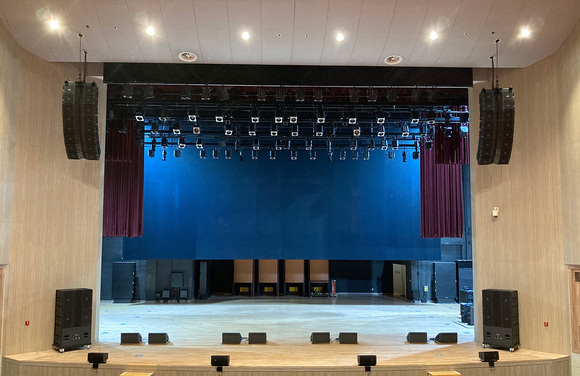 juin 16, 2021
GYEONGGI-DO, S. Korea—To heighten the sound quality of live performances and elevate the audience experience, TechDataPS Co., Ltd. collaborated with ALL THAT SOUND to equip YeonCheon Sureul Art Hall with a state-of-the-art HARMAN Professional audio solution.
Located in Yeoncheon-gun, Gyeonggi-do, Yeoncheon Sureul Art Hall is a cultural facility that offers a variety of performances, including small plays, musicals and solo concerts. The venue houses both a 580-seat grand concert hall and a smaller 166-capacity concert hall. Organizers wanted an audio system that evenly transmitted sound, achieved a sound pressure deviation of +/- 3 dB for over 90% of the audience and provided impactful performances for shows of all genres. However, the venue's unique infrastructure presented several challenges, including panel configuration, electrical disconnection, I/O accessibility and access to monitoring networks. To overcome these challenges and provide top-notch sound throughout the venue, TechDataPS collaborated with integration experts ALL THAT SOUND to equip the facility with JBL Professional, Crown and Soundcraft audio solutions.
To supplement the venue's existing JBL VT4887A line array loudspeakers, the installation team equipped the venue with a range of JBL solutions including VTX V20 and VTX S25 line array speakers, VTX M20 stage monitors, AC18 two-way speakers, 308P MkII studio monitors, Control 28-1 indoor/outdoor speakers and Control 24CT ceiling speakers. This solution provides total coverage with clear, smooth sound throughout the facility and a sound pressure deviation of just +/- 2.5 dB across all seats.
For amplification, Crown I-Tech 4X3500HD, Crown DCi 2|300N and Crown DCi 4|300N power amplifiers provide consistent power output and user-friendly interfaces. Finally, the Soundcraft Vi series digital live sound console ensures comprehensive, crystal-clear coverage throughout the venue thanks to their extensive I/O and powerful DSP.
Organizers at the YeonCheon Sureul Art Hall reported that TechDataPS both faithfully repaired the venue's existing system and accommodated the unique infrastructure while installing new products. They are especially delighted with the Soundcraft Vi console, which will be of great use to directors and production staff.
"A venue like YeonCheon Sureul Art Hall requires cleverly designed audio solutions to make an impact on the audience," said Amar Subash, VP & GM, HARMAN Professional Solutions, APAC. "We would like to thank our long-time partner TechDataPS for taking innovative approaches to integrate the entire audio solution and successfully completing the project."