Summerfest Returns With Pristine and Impactful Live Sound by JBL Professional Solutions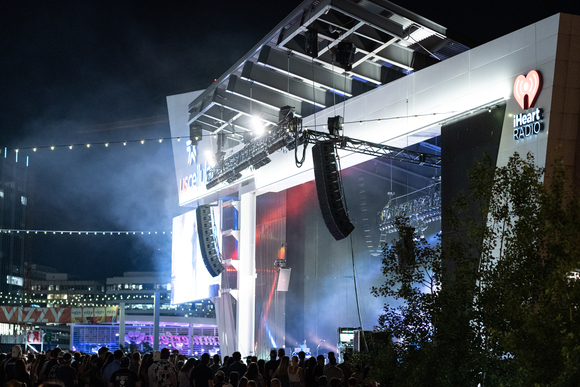 septembre 08, 2022
MILWAUKEE, Wis.—To provide artists and audiences at Summerfest with immersive and impactful live sound, Clearwing once again enlisted JBL Professional VTX Series speakers for the job.
A longtime staple of the music festival season, Summerfest is a multi-week event that brings a wide variety of artists and fans to Henry Maier Festival Park every year. With hundreds of performances taking place across twelve stages, Summerfest is historically one of the most-attended festivals in the world and earned the title of "World's Largest Music Festival" by Guinness World Records in 1999. After a two-year hiatus due to the COVID-19 pandemic, Summerfest returned for three consecutive weekends in June and July rather than 11 straight days like previous years, and featured Modest Mouse, 2 Chainz, Charli XCX, Dustin Lynch, among many others.
Despite this year's schedule change, Summerfest's stages still required high-quality sound that provided both impactful dynamics for artists and balanced coverage for audience members. To meet these requirements, Clearwing deployed JBL VTX A and V Series speakers––reliable choices for the past several years at Summerfest.
"Summerfest is a logistical marathon," said Jeffrey Mayer, Regional Audio Operations, Clearwing. "Each stage area is a unique footprint, and many have proximity concerns. They require a product line with resources that can fill in only the desired coverage gaps while segregating the space beyond. Luckily, the VTX Series does just that."
Built upon the design and features of the VTX V Series, the JBL VTX A Series is the ultimate live sound solution for stages and venues of any size. Not only does the A Series feature JBL's proprietary transducer technology and next-generation high-frequency waveguide design, but each speaker includes a streamlined rigging and suspension system designed in-house by JBL's engineers. The result is a perfect balance between sonic dexterity and ease of use necessary for well-running live rigs.
"Having a product that deploys and recovers as fast as VTX is extremely beneficial––the rigging is quick and intuitive, and is designed in a way that alleviates many potential errors," added Mayer, "It is a well-built, well sounding, tour capable product line that is sure to make its way onto everybody's rider. The versatility and scalability allow us to maximize our inventory."
An early adopter of the VTX A Series, Clearwing first implemented the speakers at Summerfest in 2017 and again the following year after the positive experience and reception. For this year's Summerfest, Clearwing went from equipping only three stages with VTX A and V Series speakers to all eleven stages excluding the American Family Insurance Amphitheater.
In 2019, Clearwing upgraded its permanent production inventory with VTX A12 and A8 line array systems for use for a variety of events, including Summerfest. The A12 offers 90-degree coverage down to 250 Hz and a specially designed Radiation Boundary Integrator and JBL transducers, ensuring distortion-free bass, balanced mids and detailed highs for every audience member.
"We chose the VTX A12 for Summerfest due to the system's ability to meet the many requirements the festival demands," said Bryan Brunclik, Vice President – Production, Clearwing. "Flexibility, coverage and intelligibility are absolute necessities for a festival that hosts such a wide range of artists and engineers, and the A12 exceeds expectations in these areas."
The A8, meanwhile, uses the same audio technology as the A12 but also provides horizontal coverage up to 110 degrees in a compact, 8-inch enclosure. Additionally, as both speakers use the same streamlined rigging, both speakers can be assembled together and used in conjunction for maximum sonic impact.
With JBL engineering personnel present at Summerfest every year, Clearwing thanks JBL and HARMAN for their continued support and communication in the midst of a still-recovering live audio industry.
"Each year JBL sends out engineering teams to assist the army of on-site production staff to ensure the large deployment functions as it should over the three-weekend festival," said Mercer Pinkston, Director of Production – MKE, Clearwing. "Any issues are quickly addressed and taken care of. In addition to that, Clearwing staff, IATSE members, and touring personnel get face-to-face interactions with the JBL engineering team to get familiar with best practices and use procedures."
"In addition to system performance, JBL provides us with an extremely high level of support with technical knowledge and response times," added Brunclik. "All of that provides an extra sense of security in a fast paced and occasionally stressful environment."