Oryun Community Church Delivers Their Message Loud and Clear with HARMAN Professional Solutions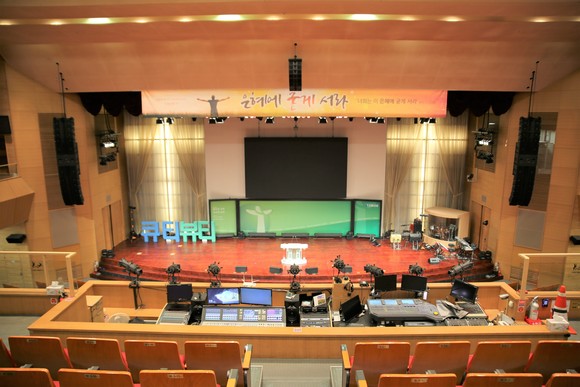 mars 15, 2019
SEOUL, South Korea—TechData Co. Ltd. recently provided Oryun Community Church in Seoul and its newly-built religious retreat, Oryun Vision Village, with end-to-end HARMAN Professional Solutions audio and control systems.
Founded in 1988, Oryun Community Church is a South Korean Christian organization that operates multiple churches and worship spaces in and around Seoul. The church's primary facility is known as Oryun Vision Center, which regularly attracts thousands of people for Sunday masses. The organization also recently built a new religious retreat called Oryun Vision Village outside of Seoul, which is available for group rental and also serves as the church's training center. Facilities at Vision Village include a chapel with 900- and 500-capacity worship spaces and two residence houses with private rooms, meeting spaces, offices and cafés. The grounds also feature a swimming pool, numerous fields and courts for outdoor activities and a serene walking path called the Vision Trail. Having had a positive experience with HARMAN products during their last renovation, Oryun Church recently hired TechData Co., Ltd. to design and install end-to-end HARMAN audio and control systems for both the Vision Center and Vision Village facilities.
"We were very satisfied with the HARMAN solutions we acquired in our 2015 renovation," said Sunho Ju, Sound Director at Oryun Community Church. "Since Vision Village is not only our training center but also available for outside rental, we needed a solution that would be easy for anyone to use, including those who are less familiar with technology. TechData solved this by installing an AMX touch panel control system at Vision Village, which allows us to control our equipment with ease."
At Oryun Vision Center, TechData selected a combination of JBL VTX V20 and VT4886 line array loudspeakers with VTS S25 subwoofers to provide adequate power and coverage for the main sound reinforcement system. Two-way JBL AC15, AC18/26 and AM512/95 loudspeakers supplement the main system, providing high output and full-range sound in compact form factors with 5.25", 8" and 12" low-frequency drivers, respectively. Crown I-Tech 4x3500HD and 12000HD amplifiers, supplemented by DCi 8|600N and 2|600N models, provide plenty of power and headroom for the extensive sound system. BSS BLU-806 and BLU-50 signal processors form a powerful digital audio network that offers flexible routing and powerful DSP across the complex system.
On stage, AKG C568B shotgun microphones provide clean, isolated signals and WMS 420 wireless microphone kits give worship leaders and speakers freedom of movement while delivering crystal-clear sound. JBL VP7212MDP powered stage monitors ensure that everyone onstage can hear clearly, and musicians use dbx PMC16 personal monitor controllers to fine-tune their own monitor mixes. Church staff use Soundcraft Vi3000 and Si Expression 2 digital consoles and JBL LSR308 8" powered studio monitors to deliver clear, powerful live mixes for the congregation. TechData also included a JBL EON206P portable PA system for outdoor and remote events.
For Oryun Vision Village, TechData selected a similar range of HARMAN solutions. JBL VTX line array loudspeakers and subwoofers form the main sound system, with JBL M20 dual 10" powered monitors on stage. Crown I-Tech amplifiers and BSS BLU signal processors form a flexible audio network, controlled by compact yet powerful Soundcraft Vi1 and Si Impact digital mixers. AKG D5, C5 and C451 microphones deliver clear, high-fidelity sound on stage for a wide range of instruments and voices. To make the entire system easier to use, Tech Data installed AMX touch panel control systems for intuitive operation.
"Oryun Vision Village requested a design with the same audio quality as the Vision Center's main hall, using JBL VTX line arrays," said Seungduk Seo, Tech Lab Lead at TechData Co., Ltd. "To make the system easier to operate, we suggested the use of AMX control panels, which AMX technicians assisted us in integrating. HARMAN's capability to cater to projects of any scale helps us tackle large church installations and smaller congregation spaces with ease."
"It is an honor to have helped create meaningful worship spaces for the members of Oryun Community Church," said Ramesh Jayaraman, VP & GM HARMAN Professional Solutions, APAC. "HARMAN would like to thank TechData Co., Ltd. for expertly utilizing our extensive range of audio and control solutions to provide premium sound quality and convenience while facilitating an engaging experience for the entire congregation."
ABOUT HARMAN
HARMAN (harman.com) designs and engineers connected products and solutions for automakers, consumers, and enterprises worldwide, including connected car systems, audio and visual products, enterprise automation solutions; and services supporting the Internet of Things. With leading brands including AKG®, Harman Kardon®, Infinity®, JBL®, Lexicon®, Mark Levinson® and Revel®, HARMAN is admired by audiophiles, musicians and the entertainment venues where they perform around the world. More than 50 million automobiles on the road today are equipped with HARMAN audio and connected car systems. Our software services power billions of mobile devices and systems that are connected, integrated and secure across all platforms, from work and home to car and mobile. HARMAN has a workforce of approximately 30,000 people across the Americas, Europe, and Asia. In March 2017, HARMAN became a wholly-owned subsidiary of Samsung Electronics Co., Ltd.
GLOBAL
David Glaubke
Director, Public Relations
HARMAN Professional Solutions
APAC
RV Ramachandran
Marketing Director - Asia Pacific Harman Professional Solutions
+65-6870-5000 Office
+65-9146-2464 Mobile
© 2019 HARMAN International Industries, Incorporated. All rights reserved. Harman Kardon, Infinity, JBL, Lexicon and Mark Levinson are trademarks of HARMAN International Industries, Incorporated, registered in the United States and/or other countries. AKG is a trademark of AKG Acoustics GmbH, registered in the United States and/or other countries. Features, specifications and appearance are subject to change without notice.