Mumbai's YRF Studios Equips its Latest Dolby Atmos™ Outfitted Film Mix Theatre with HARMAN Professional's JBL and Crown Cinema Systems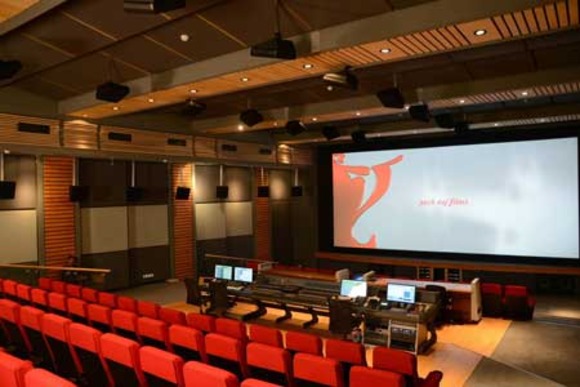 février 25, 2014
MUMBAI, India — YRF (Yash Raj Films) Studios is one of India's premier film studios and entertainment companies, well known for producing many of the country's biggest blockbusters and as the number one film distribution house in India. Located in Mumbai, YRF Studios is one of the world's most well equipped film production studios, boasting three sound stages, two recording theaters, a film mixing studio/theater, dubbing, Foley and tracking suites and a full complement of technical facilities and personal amenities.
YRF Studios' 116-seat film mixing theater is the largest of its kind in Mumbai and features the best-available audio and video equipment throughout, including a HARMAN JBL 6.1 surround sound loudspeaker system powered by Crown amplifiers, state-of-the-art Dolby Atmos™ 3-dimensional multichannel audio processing, leading-edge digital projection and other advanced technologies.
JBL ScreenArray™ 4632 3-way bi-amplified loudspeakers are installed as the main front, center and right speakers. The JBL 4632 employs a 1.75-inch titanium-diaphragm tweeter, four 6.5-inch midrange drivers and two 15-inch woofers to deliver high volume, superior coverage and uniform power output along with exceptional clarity and resolution. The tweeter and midrange drivers operate into a second-generation Optimized Aperture Waveguide for ultra-low distortion and uniform frequency response while the 4632's Focused Coverage Technology provides an asymmetrical coverage pattern tilted 10 degrees downward from the horizontal to deliver uniform coverage in either traditional or stadium-seating auditoriums.
"Sound & visual are the two integral parts of cinema, that cannot be treated in isolation. Before we even broke ground on YRF Studios our mandate from Mr. Aditya Chopra was to build and equip it with the finest audio and video components available," said Anuj Mathur, Chief Recording Engineer at YRF Studios. "We auditioned a number of products on the market and it was clear that HARMAN offered not only the best brands and best performance – they also provided the best customer and technical support. In fact, Ashish Barje, one of the HARMAN Professional engineers based in their Mumbai office, was a key collaborator in the design and installation of YRF Studios."
The main speakers are complemented by 42 JBL 8340A and 8350 surround speakers, whose high power output and smooth coverage over a wide area make them ideally suited for the stringent sonic demands of Dolby Atmos soundtrack reproduction. Introduced in April 2012, Dolby Atmos has been embraced by all the major Hollywood studios. Dolby Atmos unleashes the potential of sound in storytelling by providing sound experts the creative freedom to easily place or move specific sounds anywhere in the movie theatre, not just where there happen to be speakers. The result is what moviegoers have described as the most engaging and lifelike cinema sound experience ever. The 8340A and 8350 speakers are mounted along the sides and rear and from the ceiling to provide a true three-dimensional sound field. Four JBL 4642A dual-18-inch subwoofers provide powerful and extended low-frequency response, and all the speakers are driven by Crown DSi 4000, DSi 2000 and CTs2000 power amplifiers.
"At Dolby, it has been our constant endeavor to get the best cinematic experiences to the Indian audiences, and HARMAN has been an ideal partner in this ecosystem as it shares a common vision. The association gave us an excellent opportunity to work with HARMAN equipping the renowned YRF Studios with Dolby Atmos. Dolby Atmos is the latest and most innovative cinema sound technology which gives filmmakers unprecedented control over the content, creating a virtual reality of sound by precisely placing and moving sounds within the theatre to make audiences feel as if they too, are in the middle of the onscreen action.  In short - Dolby Atmos provides the ultimate in creative control so that audiences in any setting can experience the full impact of your storytelling." said Mr. Pankaj Kedia, Country Manager, Dolby Laboratories India.
"In order to deliver a truly immersive cinema experience, the audio soundtrack for a film has to be as compelling as the visuals," said Prashant Govindan, Director, India operations, Harman Professional. It all starts in the production studio – the engineers need to have the right tools to know that what they're hearing is accurate and will be translated into what moviegoers will enjoy in the cinema. We are gratified that YRF Studios has recognized the superior performance of JBL and Crown in the highly critical application of film sound production and have chosen these products as their sonic references."
HARMAN (www.HARMAN.com) designs, manufactures, and markets a wide range of infotainment and audio solutions for the automotive, consumer, and professional markets. It is a recognized world leader across its customer segments with premium brands including AKG®, Harman Kardon®, Infinity®, JBL®, Lexicon®, and Mark Levinson® and leadingedge connectivity, safety and audio technologies. The company is admired by audiophiles across multiple generations and supports leading professional entertainers and the venues where they perform. More than 25 million automobiles on the road today are equipped with HARMAN audio and infotainment systems. HARMAN has a workforce of about 14,000 people across the Americas, Europe, and Asia and reported sales of $4.3 billion for the fiscal year ended June 30, 2013.