Life Corporation's Grand Ship Ofuna Ekimae Store Perfects the Shopping Experience With JBL Professional Speakers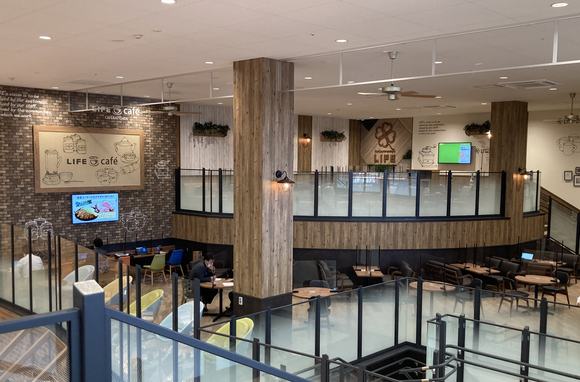 juillet 21, 2022
KAMAKURA, Japan—To achieve crystal-clear sound quality throughout the Life Grand Ship Ofuna Ekimae Store, Hibino Corporation outfitted the facility with dynamic JBL Professional Control 24 Micro ceiling speakers.
Life Corporation is one of Japan's largest retail chains, specializing in groceries and clothing. In 2021, the company opened the Life Grand Ship Ofuna Ekimae Store in front of Ofuna Station, a major transportation hub located on the border between Yokohama and Kamakura. The store's management wanted to provide a memorable in-store experience for both customers and employees, but the existing sound system became a setback due to its poor sound quality.
Hibino Corporation investigated and found that the current speakers were too sparsely installed for effective sound coverage and also doubled as the emergency broadcast system. The installation team then selected speakers from the JBL Professional Control series for high-quality audio output and consistent coverage throughout the store.
Hibino's engineers outfitted the store with 72 JBL Control 24CT Micro 2-Way ceiling speakers, which are designed specifically for background audio implementation across any venue. Featuring a 4.5-inch woofer, 0.5-inch polycarbonate tweeter and a 150-degree coverage pattern, the 24CT Micro loudspeakers emit smooth and pleasant background music across a wide space while blending in seamlessly with the store's decor. Thanks to their smooth frequency response and low distortion, the speakers also deliver clear and intelligible sound for in-store announcements.
Life Corporation praised the JBL speakers' simplicity and flexibility as a powerful music and announcement broadcast system, which they hope will further enrich the in-store shopping experience. They also extended gratitude to Hibino for an efficient installation process.
"For projects like Life Grand Ship Ofuna Ekimae Store, creating the right atmosphere and elevating the audio experiences of visitors can be game-changing," said Amar Subash, Director, Channel Management and Audio Solutions, HARMAN Professional Solutions, APAC. "We would like to thank our partner Hibino Corporation for being involved in every step of creating this immersive and welcoming store experience to keep customers coming back."