JBL Professional by HARMAN Keeps the Yuma Tent Thumping at 2016 Coachella Valley Music & Arts Festival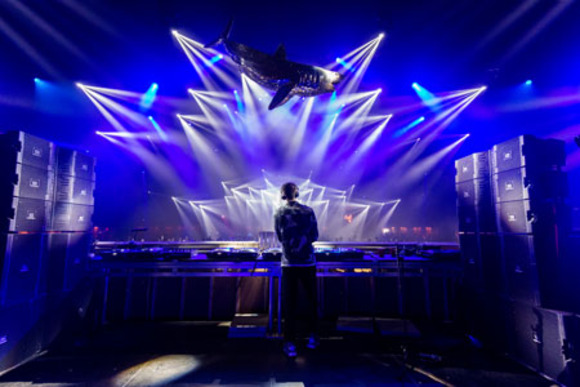 mai 18, 2016
NORTHRIDGE, Calif.—Taking the spotlight at one of the hottest festivals of the year, a JBL Professional by HARMAN sound system was selected for the Yuma Tent at the Coachella Valley Music & Arts Festival. Southern California's hot and dusty desert isn't the average locale for a nightclub, but thanks to the Yuma Tent, that is exactly what concertgoers found when they entered the festival gates. Thumping away from festival open to close with some of the world's premier DJs, the Yuma Tent's unique purpose was to recreate the intimate and hi-fidelity experience of being in a high-end nightclub, but with a sound system that could deliver the experience at high SPL in a 150-foot-wide tent. With this goal in mind, sound designer George Stavro, owner and head designer of Sonic Lab Audio and Integral Sound, specifically chose a JBL VTX system for the Yuma Tent.
"This year, we were able to reorient the Yuma Tent to be more conducive to great sound and were able to design a system from a clean slate," said Stavro. "I chose the JBL VTX system as I believe the V25-II is a true full range speaker with an extremely smooth and extended high frequency with a strong low frequency response down to 40hz. The V25-II stacked on top of the G28s with S28s and VRX 932s across the front of the stage formed a great system that managed very high SPL for more than 12 hours a day without becoming aggressive or fatiguing."
The main stage included 16 JBL VTX V25-II mains, deployed in four platform-elevated ground stacks of four around the Yuma Tent. Twenty-four high-performance, dual 18-inch subwoofers were deployed, including 12 JBL VTX G28s and 12 JBL VTX S28s, which were deployed in an EDS-array across the front of the stage and in a cardioid configuration underneath the main PA stacks in the tent. The system was powered by four Crown VRack 4x3500HD and four Crown VRack 12000HD standardized rack packages, and the entire system was controlled and monitored with JBL Performance Manager 2.0 for accurate system equalization and real-time system monitoring.
Hollywood nightclub owner and Yuma Stage curator Kobi Danan agreed. "The sound system designed for the Yuma Stage by our sound designer George Stavro was amazing. On his recommendation, we used the new JBL line array system that sounded great over both weekends. It was by far the best sound and most successful Yuma to date."
In addition to the sizable main PA system, a DJ monitor system was designed to offer significant impact andclarity, but in a relatively small footprint. With the use of VTX-standard V5 tunings, the DJ monitor systemprovided a sonic signature that gave the performing artists a precise idea of how their music was translating tothe audience. Onstage, two stacks were deployed, each made up of three JBL VTX V20 loudspeakers with oneJBL VTX S25 subwoofer and one JBL VTX S28 subwoofer. After three days of performances, "the DJs hadnothing but praise for the S28/S25/V20 DJ monitor system," said Stavro.
"The entire package made for very impressive PA system and created an incredible environment to enjoydance music for all six days," said Stavro.
Unofficially regarded as the kickoff event for the summer festival season, the Coachella Valley Music & ArtsFestival is an annual music and arts festival held at the Empire Polo Club in Indio, California. It was founded by Paul Tollett in 1999 and is organized by Goldenvoice, a subsidiary of AEG Live. The event features many genres of music, including rock, indie, hip hop and electronic dance music (EDM) as well as art installations and sculptures. Six stages continuously host live music across the grounds for two consecutive weekends. The Yuma Stage was introduced in 2013.
ABOUT HARMAN
HARMAN (
harman.com
) designs and engineers connected products and solutions for automakers, consumers, and enterprises worldwide, including connected car systems, audio and visual products, enterprise automation solutions; and connected services. With leading brands including AKG®, Harman Kardon®, Infinity®, JBL®, Lexicon®, Mark Levinson® and Revel®, HARMAN is admired by audiophiles, musicians and the entertainment venues where they perform around the world. More than 25 million automobiles on the road today are equipped with HARMAN audio and connected car systems. The Company's software services power billions of mobile devices and systems that are connected, integrated and secure across all platforms, from work and home to car and mobile. HARMAN has a workforce of approximately 29,000 people across the Americas, Europe, and Asia and reported sales of $6.7 billion during the 12 months ended March 31, 2016. The Company's shares are traded on the New York Stock Exchange under the symbol NYSE:HAR.