JBL by HARMAN Line Arrays Supply House Sound at the Forum for Live Broadcast of iHeartRadio Music Awards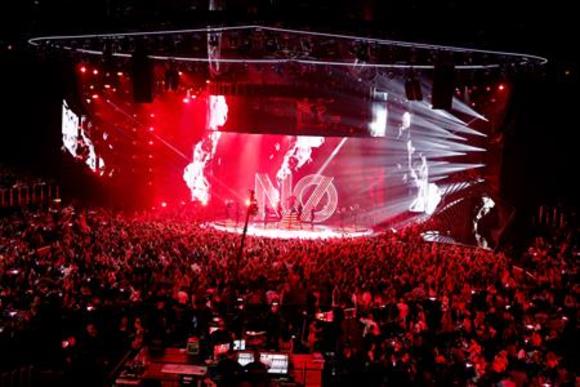 août 04, 2016


INGLEWOOD, Calif.
—When the historic Forum recently hosted the iHeartRadio Music Awards, powerful VerTec and VTX line arrays from JBL by HARMAN were chosen to provide the house sound for the event, which was broadcasted live on
TBS, TNT and TRUTV. The third annual awards ceremony recognized the most popular artists and music over the past year, as determined by the network's quarter-billion monthly listeners in the U.S. on the iHeartRadio digital music platform. Event integrator ATK Audiotek built the PA around two 12-box VerTec 4889 three-way line array elements and two six-box VTX V20 center fill clusters.

With its capacity of 17,500, the venue provided a double challenge for the production team. First, the system had to evoke the audience's energy that is so essential to a televised live music event—and the system delivered, as audiences were wowed by live performances from such artists as Justin Bieber, Iggy Azalea and host Jason Derulo. Secondly, the PA had to produce clear and transparent audio for the show's dialog sequences, which included nominee introductions and winners' acceptance speeches.

In addition to the VerTec arrays and VTX V20 clusters, ATK Audiotek specified a full complement of additional JBL professional solutions, including two 16-box V20 side clusters, four six-box V20 delay clusters, two eight-box VerTec 4880A sub-clusters and a number of VRX932 front fill speakers.
"This year's set had many challenges with ceiling pieces and video screens," said Mikael Stewart, Vice President, Special Events for ATK Audiotek. "The JBL system continues to allow for complete flexibility without sacrificing coverage or quality. The V20 is a wonderful enclosure with punch and intelligibility. It integrates well with our existing 4889 system. With dialogue being equally as important as the music, I am never concerned that this PA will perform well."

JBL's latest generation of high-powered, lightweight Differential Drive® transducers, coupled with its proven line array technology, is at the core of VerTec systems. This innovative solution is a direct response to the rental sound industry's demand for reduced system size and complexity while simultaneously delivering highly advanced performance. Rugged, integral array suspension hardware ensures fast, reliable setups and takedowns.

Learn more about the iHeartRadio Music Awards: http://news.iheart.com/features/iheartradio-music-awards-15/

ABOUT HARMAN

HARMAN (harman.com) designs and engineers connected products and solutions for automakers, consumers, and enterprises worldwide, including connected car systems, audio and visual products, enterprise automation solutions; and connected services. With leading brands including AKG®, Harman Kardon®, Infinity®, JBL®, Lexicon®, Mark Levinson® and Revel®, HARMAN is admired by audiophiles, musicians and the entertainment venues where they perform around the world. More than 25 million automobiles on the road today are equipped with HARMAN audio and connected car systems. The Company's software services power billions of mobile devices and systems that are connected, integrated and secure across all platforms, from work and home to car and mobile. HARMAN has a workforce of approximately 29,000 people across the Americas, Europe, and Asia and reported sales of $6.7 billion during the 12 months ended March 31, 2016. The Company's shares are traded on the New York Stock Exchange under the symbol NYSE:HAR.

For more information contact:

Ian MacDonald
Brand Definition
Tel: +1 212-660-2555
Ian@Brand-Definition.com

© 2016 HARMAN International Industries, Incorporated. All rights reserved. Harman Kardon, Infinity, JBL, Lexicon and Mark Levinson are trademarks of HARMAN International Industries, Incorporated, registered in the United States and/or other countries. AKG is a trademark of AKG Acoustics GmbH, registered in the United States and/or other countries. Features, specifications and appearance are subject to change without notice.