JBL by HARMAN Delivers Amazing Live Sound at Chicago's LakeShake Country Music Festival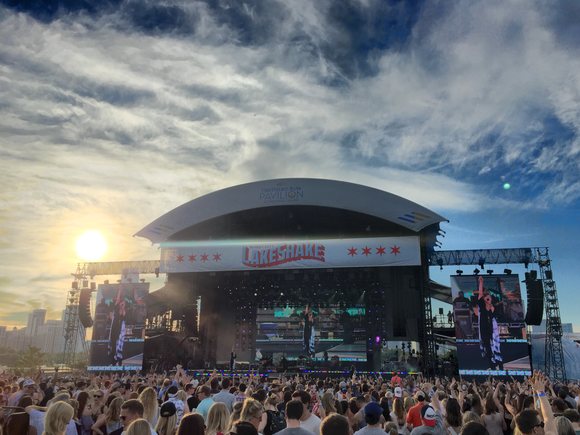 juillet 20, 2016
Thunder Audio selects JBL VTX Series speakers for their superior clarity, coverage, frequency response and power
CHICAGO—JBL by HARMAN VTX Series speakers, powered by Crown I-Tech HD amplifiers, delivered the highest quality live sound at the annual LakeShake music festival, where tens of thousands of country music fans gathered on the beautiful shores of Lake Michigan for three days of exciting performances by some of the hottest artists in country music. The festival's audio provider, Thunder Audio, deployed their JBL VTX V25-II speaker system for its exceptional clarity, coverage, frequency response and power.
"VTX has a great reputation in the country music industry," said Greg Snyder, Business Development Manager at Thunder Audio. "Many top touring acts include VTX on their rider because of the abundant power and exceptional clarity that the system provides. When it comes to country music events, VTX is our go-to choice.
The Windy City's LakeShake music festival brought together more than 30 of country music's biggest stars, including Lady Antebellum, Brooks & Dunn, Tim McGraw, Jason Aldean, Martina McBride and many more. With such a high-caliber lineup of performers, it was critical to deliver the best possible sound for the performers and audiences alike.
The live sound professionals at Thunder Audio have relied on JBL equipment for many years, recently using VTX for countless festivals and tours, including Lollapalooza, Moogfest and Austin City Limits. Widely accepted in the industry and a favorite among live sound engineers, VTX offers superior fidelity and a compact footprint that's ideal for events like the LakeShake Country Music Festival.
The system Thunder Audio deployed for the LakeShake festival included main hangs of 16 x VTX V25-II cabinets per side, side hangs of 8 x V25-II cabinets per side, flown arrays of 5 x VTX S28 subwoofers, a horizontal cardioid array of 30 x VTX S28 subwoofers in front of the stage and delay hangs of 12 x VTX V20 per side. Using VTX V20s as the delay system enabled Thunder Audio to have a significantly larger and more even coverage area, with a small-format cabinet that exactly matches the tonality and performance of the V25-II main hangs, thanks to factory-standard V5 tunings.
The entire system was powered by racks of Crown I-Tech 12000HD amplifiers, and the Thunder Audio team relied on JBL HiQnet Performance Manager 2.0 software to control and configure the entire VTX system and ensure optimal performance. The software dramatically reduces design time, simplifies networking and eliminates costly re-scoping, taking the complexity and guesswork out of system configuration.
"We use Performance Manager for sound design, equalization, amplifier programming and data—it's our primary control for the audio system," Snyder explains. "We find it to be a very accurate system that we can stand by."
Photography Credit: Eric L. Friedlander, HARMAN Professional Solutions
ABOUT HARMAN
HARMAN (harman.com) designs and engineers connected products and solutions for automakers, consumers, and enterprises worldwide, including connected car systems, audio and visual products, enterprise automation solutions; and connected services. With leading brands including AKG®, Harman Kardon®, Infinity®, JBL®, Lexicon®, Mark Levinson® and Revel®, HARMAN is admired by audiophiles, musicians and the entertainment venues where they perform around the world. More than 25 million automobiles on the road today are equipped with HARMAN audio and connected car systems. The Company's software services power billions of mobile devices and systems that are connected, integrated and secure across all platforms, from work and home to car and mobile. HARMAN has a workforce of approximately 29,000 people across the Americas, Europe, and
Asia and reported sales of $6.7 billion during the 12 months ended March 31, 2016. The Company's shares are traded on the New York Stock Exchange under the symbol NYSE:HAR.
For more information contact:
Ian MacDonald
Brand Definition
Tel: +1 212-660-2555
© 2016 HARMAN International Industries, Incorporated. All rights reserved. Harman Kardon, Infinity, JBL, Lexicon and Mark Levinson are trademarks of HARMAN International Industries, Incorporated, registered in the United States and/or other countries. AKG is a trademark of AKG Acoustics GmbH, registered in the United States and/or other countries. Features, specifications and appearance are subject to change without notice.