HARMAN Professional Solutions Delivers Out-Of-This-World Sights and Sounds at Grande Centre Point Space Pattaya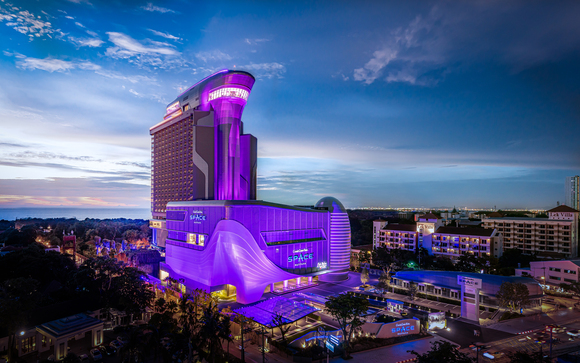 juin 05, 2023
CHONBURI, Thailand—Mahajak Development Co., Ltd. collaborated with HARMAN Professional Solutions to outfit Grande Centre Point Space Pattaya with comprehensive audio and lighting solutions by JBL Professional, Soundcraft, dbx, Martin, BSS, AMX and Crown.
Located in the seaside city of Chonburi, Grande Centre Point Space Pattaya is Thailand's first space-themed five-star hotel. The hotel offers a wide range of facilities that combine outer-space-inspired design and innovative amenities, including a 12,000-square meter intergalactic water park—the largest of its kind in the country. To support world-class guest experiences with the latest technology, hotel owners turned to Mahajak Development Co., Ltd. to bring their vision to life with a suite of cutting-edge solutions. Mahajak worked closely with HARMAN Professional Solutions to outfit the complex with a comprehensive audio and lighting installation consisting of JBL Professional speakers, Crown amplifiers, Soundcraft mixing consoles, dbx signal processors, Martin lighting fixtures, BSS network devices and AMX control units.
The Space Convention Centre required versatile AV solutions that could support a variety of functions and room configurations. Mahajak installed JBL Control 18C/T, Control 14C/T and Control 19CS ceiling speakers to provide balanced and even coverage throughout the modular meeting spaces. The team also included Soundcraft Si Impact digital audio consoles, JBL BRX308-LA line array speakers and BRX325SP subwoofers to be used as the main PA and mixing system for events requiring concert-style presentations.
Additionally, the team included JBL PRX Series portable speakers and subwoofers for maximum flexibility when organizing spontaneous events in miscellaneous locations. For the lighting component, Mahajak equipped the space with Martin MAC Quantum Wash fixtures to visually enhance any type of event with professional-grade visuals.
In the Space Water Park, the team installed JBL Control 25-1 speakers fitted with IP55-rated WeatherMax foam grilles to protect against inevitable water splashes. Networked by a BSS Soundweb London BLU-100 signal processor, the Control 25-1 speakers provide immersive background music as well as emergency announcements and fire safety alerts. A JBL CSPM-1 dynamic close-talking microphone completes the paging system. Mahajak also installed an AMX NX3200 Integrated Controller and Modero Series touch panels to give staff intuitive and convenient control over the audio system.
Grande Centre Point Space Pattaya boasts a one-of-a-kind façade design that is permanently projection-mapped with stunning visuals looping on the building itself. The projection mapping content is carried over HDBaseT protocol with AMX DXLink transmitters, which allow the media playback system to remain in a safe location from weather conditions up to 100 meters away. Mahajak also installed a Martin-powered lighting system to enhance and accentuate the projection-mapped façade effects.
To provide a unified audio experience across the building's entrance and outdoor areas, the team installed AMX7215/95 and JBL ASB7118 two-way loudspeakers treated with WRX weather protection, as well JBL Control 88M mushroom landscape speakers. The entire audio system is powered by Crown amplifiers with digital signal processing provided by dbx DriveRack VENU360 loudspeaker management systems.
Mahajak staff pointed out that HARMAN Professional Solutions played a key role in the success of the Grande Centre Point Space Pattaya installation. They also reported relying on HARMAN's diverse catalog of products to overcome several challenges and deliver a tailored solution that met the hotel's strict requirements.
"Grande Centre Point Space Pattaya is a show-stopping establishment that we are proud to be associated with," said Amar Subash, VP & GM, HARMAN Professional Solutions of APAC. "Its distinctive features and unique facilities set new benchmarks for the hospitality industry, and is aligned with our mission to create high-level experiences and inspire excellence through our innovative products."
STORY LINKS
Mahajak Development Co., Ltd.
https://www.mahajak.com/en/
Grande Centre Point Space Pattaya
https://spacepattaya.com/